New Information back number
<Year 2013>
---
(Autumn board meeting & Dan testing)
On Nov/18 HQ held autumn board meeting & Dan testing at Futenma Dojo.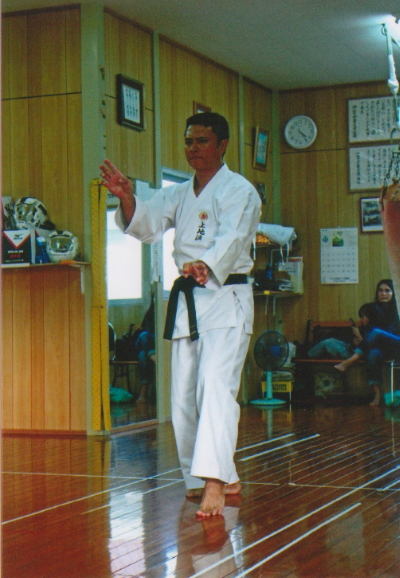 Dan testing (1)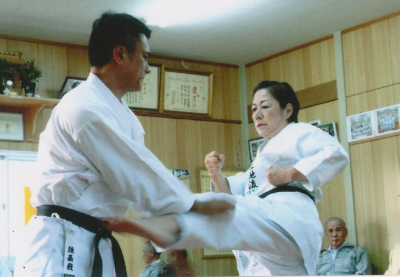 Dan testing (2)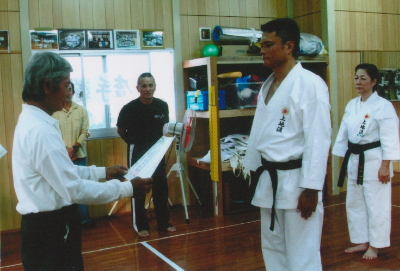 Dan testing (3)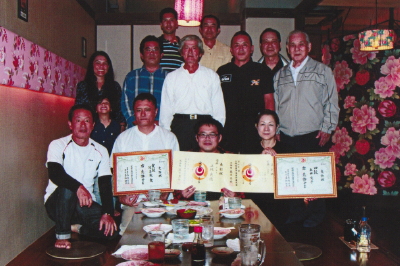 Celebration



---
(Exchange practice at Ishikawa Dojo and Futenma Dojo)
8 students from Tokyo Branch worked out at Ishikawa Dojo on November 2nd and at Futenma Dojo on November 3rd, 2013.
Goju-ryu and Shorin-Ryu people showed their Kata to Tokyo Branch students in Futenma Dojo practice.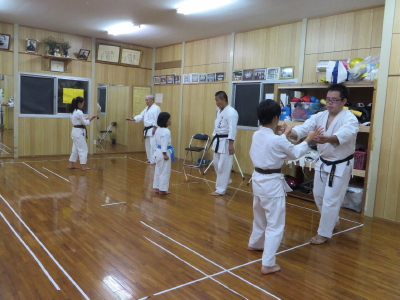 Sanchin <Futenma Dojo>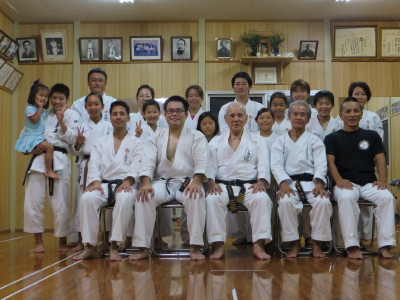 Group photo<Futenma Dojo>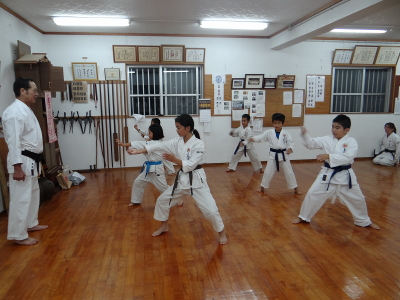 Kanshiwa Kata<Ishikawa Dojo>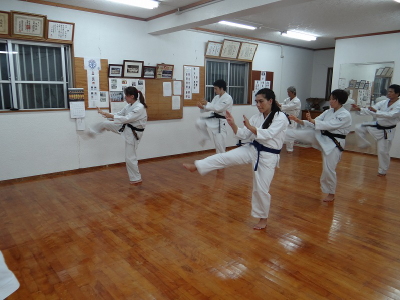 Hojyo undo <Ishikawa Dojo>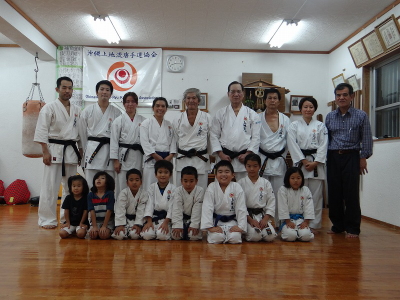 Group photo<Ishikawa Dojo>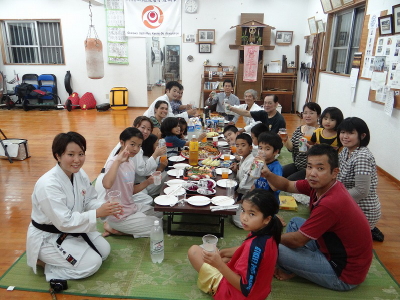 Welcome party <Ishikawa Dojo>



---
[Oct,30]
The Board of Directors registered Luth Family Karate Dojo (Walter Mattson's Dojo Group) as a certified dojo of Okinawa Uechi-Ryu Karate-Do Association at the Board meeting on October 16th. We all give Mr. and Mrs. Luth a hearty welcome to O.U.K.A.
---
[Sep,19] Cultural exchange with Denis Brett sensei from Australia branch.

From Sep.8 to 22, Mr. Denis Brett and his family visited Okinawa to have cultural exchange with members here.
We sincerely hope that we can promote bonding and fellowship with Australia branch. Thank you very much again for coming to Okinawa all the way from Australia.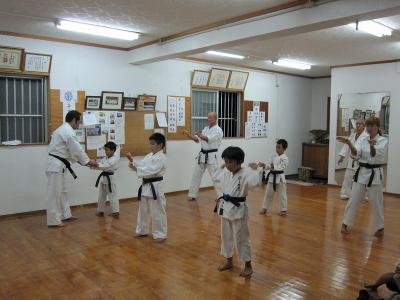 Hojyo undo <Ishikawa Dojo>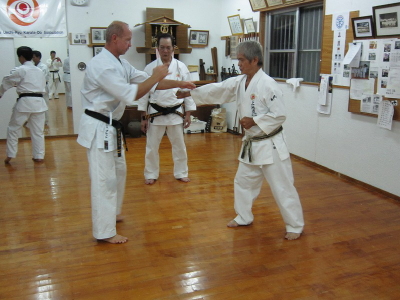 With Kina sensei & Okuhama sensei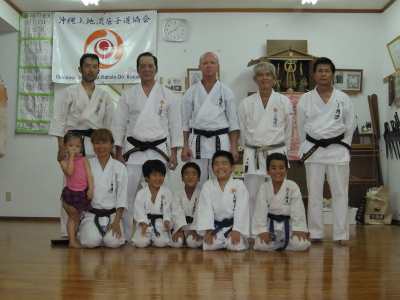 Group photo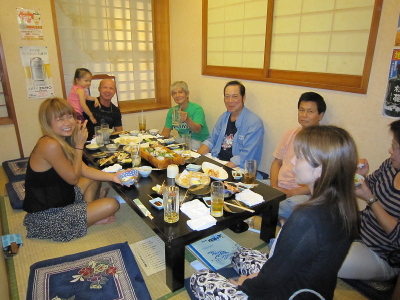 Welcome dinner


---
[Sep.1] Periodic board meeting report

On August 17, the headquarters periodic board meeting was held at Ishikawa training center. Board members discussed (1) Okinawa Karate Championships for juniors in September, (2) selection of participants to send to Tokyo Metropolitan Championships in October, and other matters. Grandmaster Shintoku Takara was actively involved as always.
The details of discussion will be notified to all the foreign branches through the division of public relations.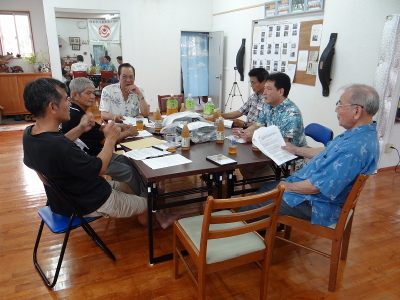 Meeting



---
[Aug.4] All Okinawa Junior Karate Do Championships
On July 28, seven junior students from Ishikawa dojo participated in All Okinawa Junior Karate Do Championships.
Our junior students formed two teams.
Team A Sanchin (A.Asato, Y.Ishii, Kamiunten, K.Asato)
Team B Kanshiwa (R.Shimabukuro, A.Shimabukuro, K.SHimabukuro)The total number of participants was 2,282, teams was 711, and dojo was 121.Our students missed getting prize but they all tried their best.
Alll of them had a wonderful experience.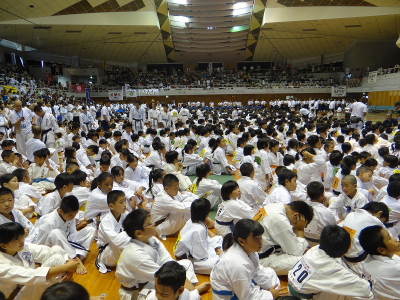 Okinawa Martialarts hall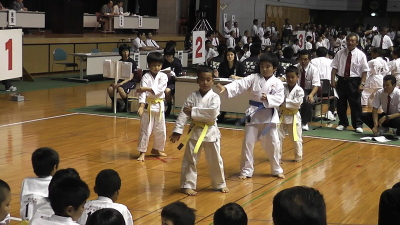 Team A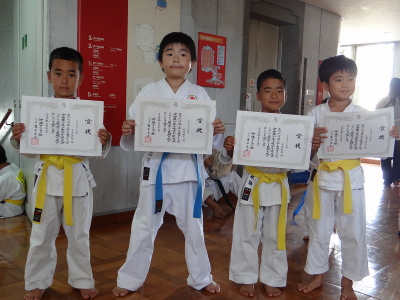 TeamA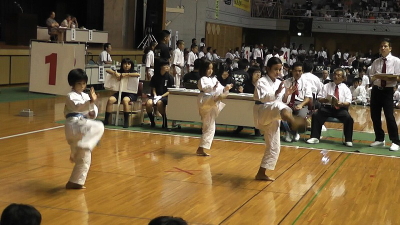 TeamB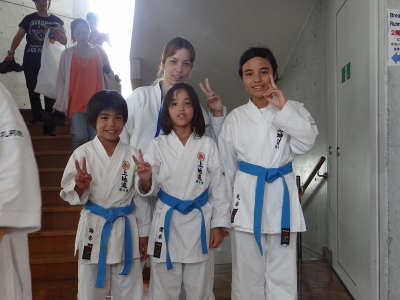 TeamB


---
[Jul,29] Traning camp by Ishikawa Dojo

From July 20 to 21, a training camp was held at Ishikawa dojo. Junior participants received rigorous training as preparation for participating in "The 25th Okinawa Times Karate-Do Championships for juniors.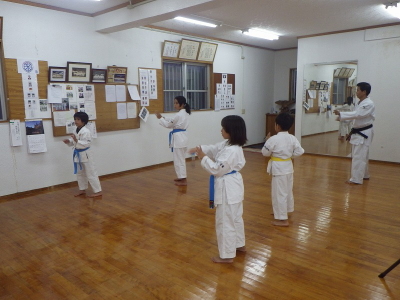 Hojyo Undo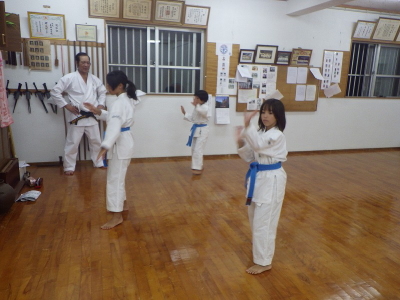 Kata Kanshiwa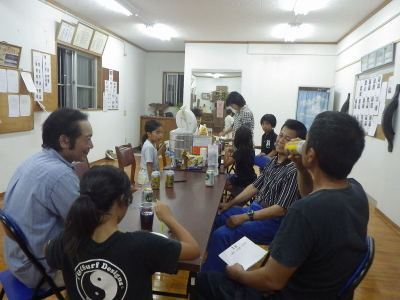 Dinner time at Dojo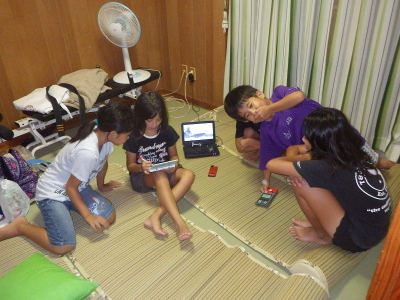 Study time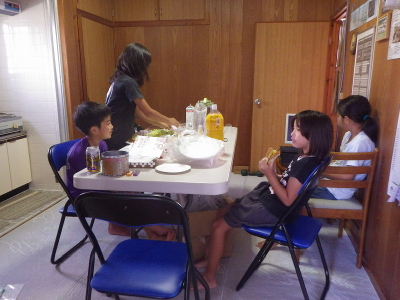 Breakfast time


---
[May,29] Headquarters Spring Event Report
From May 25 to 26, annual Spring events were held at headquarters. On May 25, a seminar and promotion test were held and many participants from Okinawa, USA, Australia, Germany, Tokyo and Aichi. Get-together party was held afterwards. Everyone had a wonderful and fruitful day.
Also, on May 26, annual headquarters board meeting was held and officials from headquarters and chairpersons both domestic and abroad attended. Items such as accounting report, activities plan, examination menu, technical changes were discussed. (Every branch will be informed of the result of this board meeting through the communication manager.)
Three years have passed since the formation of our association and these annual spring events have become main activities for the year. We plan to hold a championships in the future.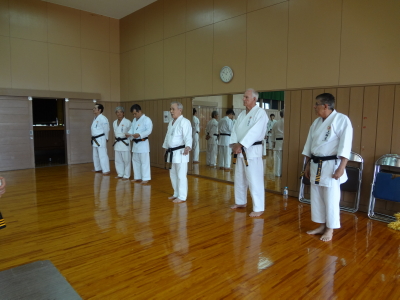 Instructors for the Spring seminar ( Uruma city. Ishikawa gym)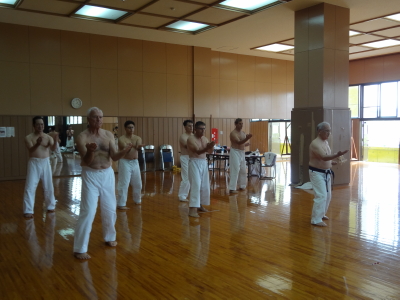 Sanchin by high ranked masters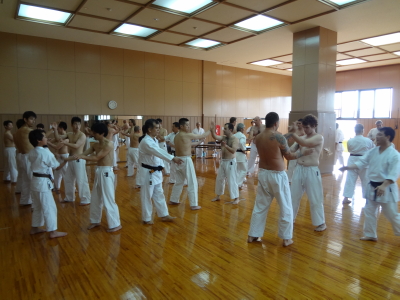 Arm conditioning (We will go back to the old arm conditioning method.)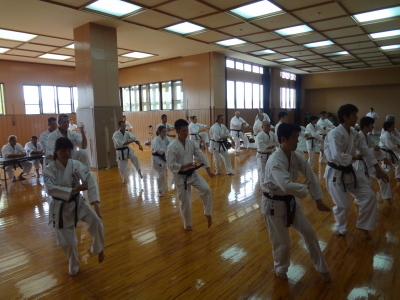 Kata practice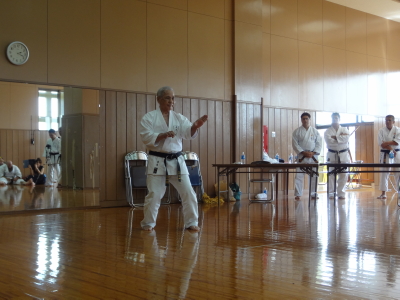 Kata by grandmaster Shintoku Takara sensei (Hanshi 10 dan)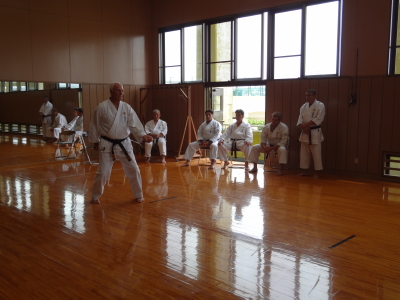 Kata by Walter Mattson sensei (Hanshi 10 dan, USA)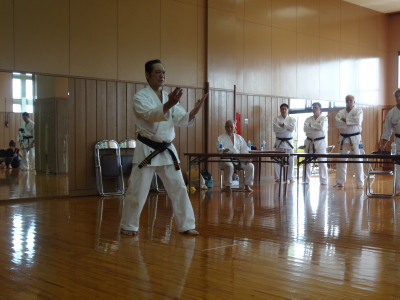 Kata by Shinzaburo Okuhama sensei (Hanshi 10 dan, Okinawa headquarters)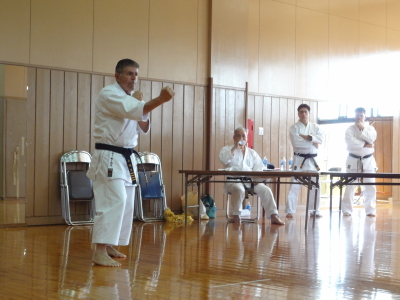 Kata by Arthur Moulas sensei (Hanshi 9 dan, Australia)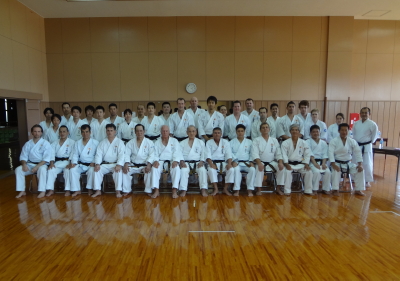 Group photo with all the participants (15 out of 40 participants were from abroad)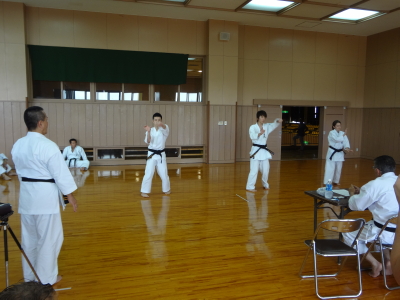 Promotion test (Hojo Undo/supplementary exercises)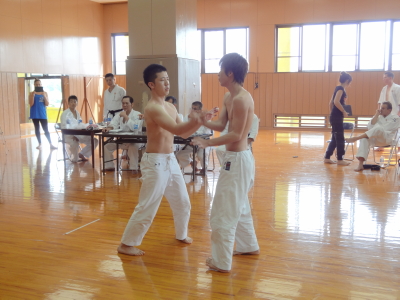 Promotion test (Kote kitae/arm conditioning)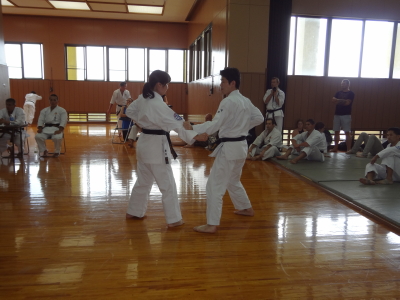 Yakusoku kumite/ prearranged kumite ( Two years later, conventional "Uechi Ryu dan kumite" will be included in the promotion menu)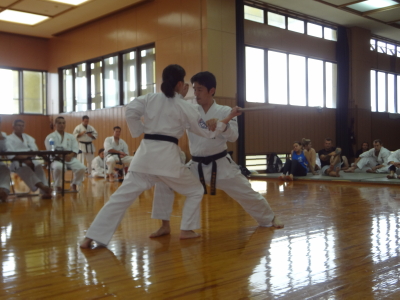 Promotion test (Kata bunkai/application)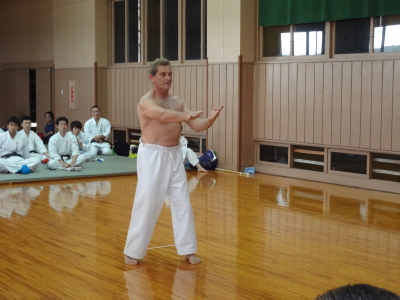 Promotion test (Sanchin)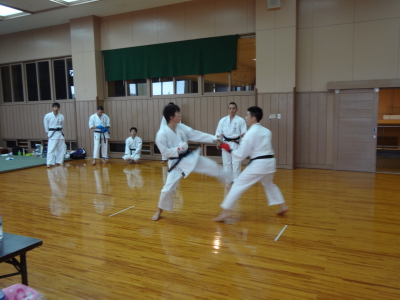 Promotion test (Kumite)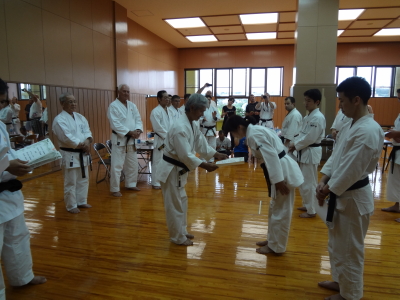 Receiving certificate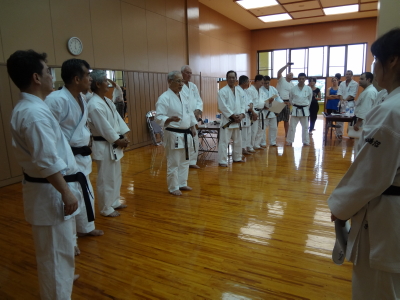 Comments by grandmaster Takara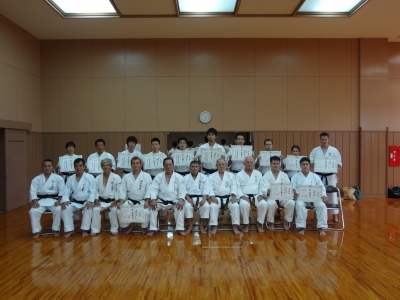 Group photo of certified members and masters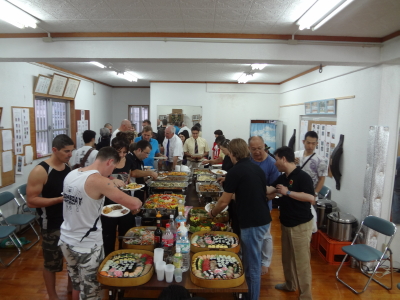 Get-together & celebration party ( Ishikawa dojo)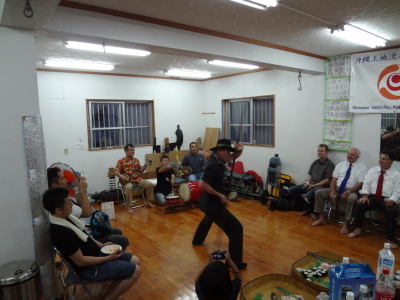 Kobudo bouts performance by Ishiki sensei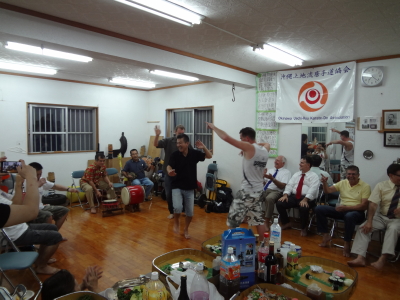 Dancing with Okinawa music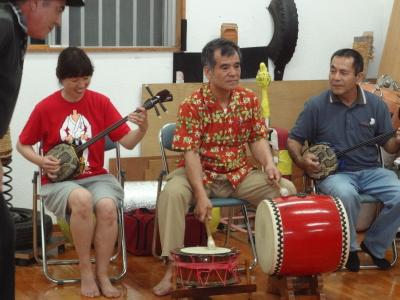 Masters playing musical instruments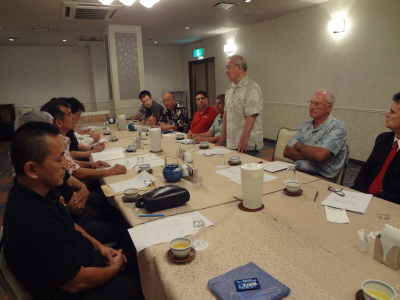 Annual board meeting ( Greetings by Grandmaster Takara) at Hotel Crown in Okinawa city.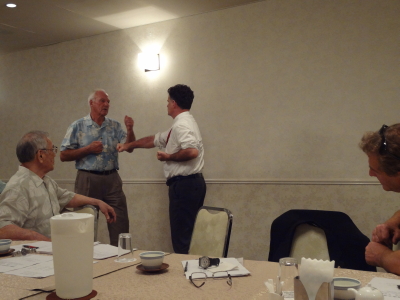 Explanation on technical changes of kote kitae/arm conditioning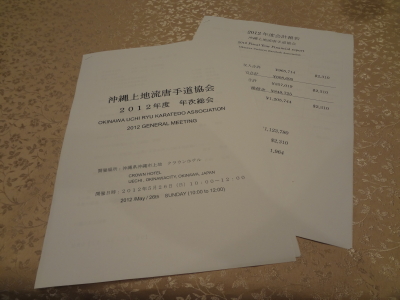 Handouts for the board meeting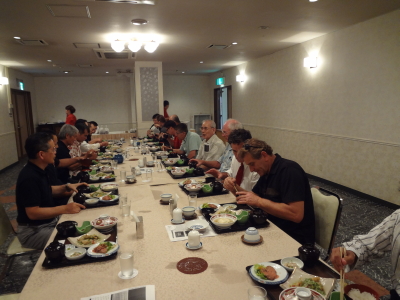 Luncheon after the meeting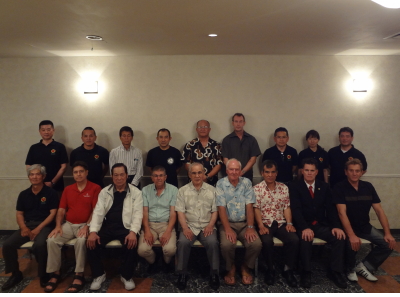 Group photo with board meeting participants


---
[Mar.31]
Information about Spring seminar etc.
Okinawa headquarters is going to hold following events as indicated below. We kindly invite our association members to attend. This time representatives from Tokyo, USA, Australia, Germany, Russia etc. are going to get together in Okinawa.
* May 25 Spring seminar & Promotion test (13:00~17:00) / Ishikawa gym
Get-together party (18:00~20:00) / Ishikawa dojo
*May 26 Annual general meeting & lunch (10:00~13:00) Crown Hotel
---
[Mar.17]
On March 17, HQ held Dan testing of Master David Hayward from Australia branch. He passed 8th Dan.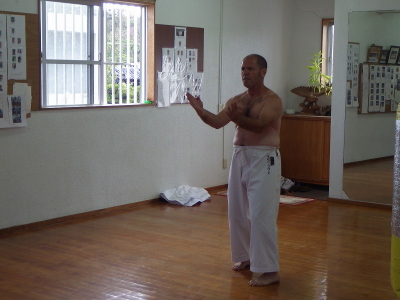 Sanchin testing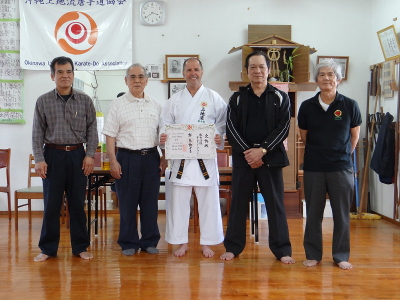 Group photo with senseis & Master David Hayward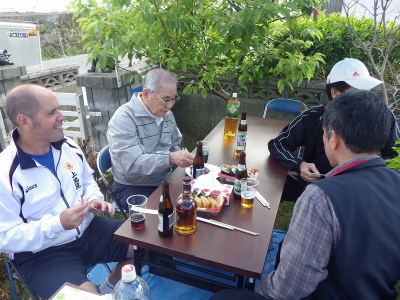 Lunch time after testing


---
[Mar.10]
On March 6, Master David Hayward from Australia branch arrived in Okinawa to take a promotion test for his 8th degree. After his training at Ishikawa dojo, Ginowan dojo and Futenma dojo, Master Hayward will take the promotion.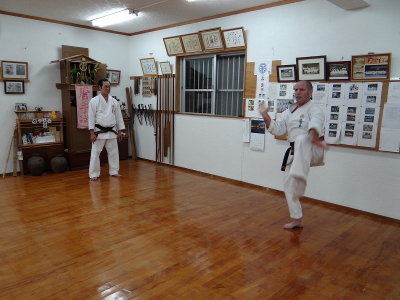 Kara traning by Okuhama Shinzaburo sensei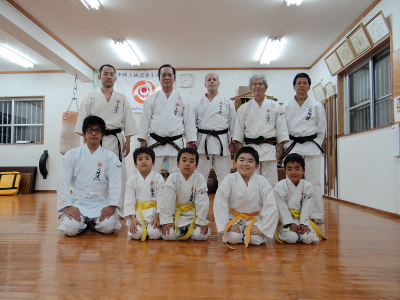 Group photo with Ishikawa dojo senseis & students


---
[February 3] Headquarters Board Meeting & New Year Party

On January 27, the headquarters board meeting and New Year party were held at Ishikawa dojo. The board meeting discussed the situations at foreign branches, the members to take the promotion test for higher black belt degrees and plans to accept foreign members to receive training at Ishikawa dojo in Okinawa. The New Year party began by wishing the further development and prosperity of our association and its members. Everyone had an enjoyable time.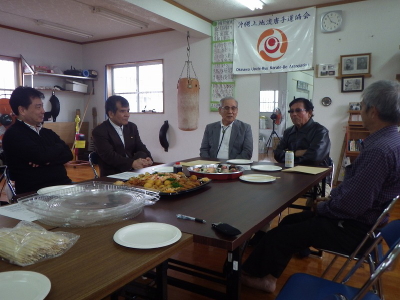 Board meeting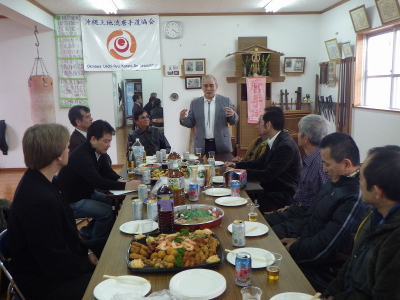 Speech by Takara Shintoku sensei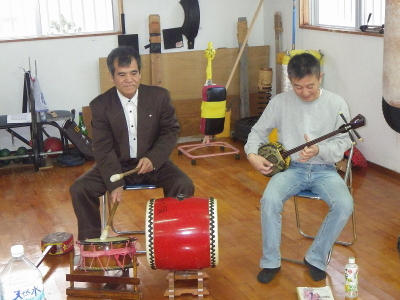 Entertainment time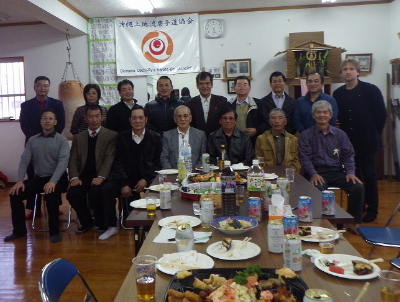 Group photo


---
A Happy New Year!


Headquarter of the Association executed may events last year. We had a general meeting, seminar and dan promotion test in June with participants from Tokyo Branch, The United States, Australia and Russia. Ishikawa Training Center accepted many students from Tokyo and overseas for their further study of Karate-Do throughout the year and also the Headquarter dispatched umpires and participants to Tokyo Metropolitan Karate-Do Championship in October. Those events told us how much the Association has certainly developed.

I would like to ask your cooperation for further development of the Association and wish the year of 2013 to be healthy and prosperous for all of you and your families.

Kensho Kina

President,

Okinawa Uechi-Ryu Karate-Do Association
---
Copyright(C) 2002-2013 Okinawa Uechi-Ryu Karate-Do Association All Rights Reserved.