New Information back number
<Year 2007>
---

Okikukai HQ held meeting & exchanging party
with foreigh branch instructors on Dec.14. 
       
 Meeting with Mr.Walter Mattson



 Comemorative photo
              

Exchanging party with
Mr.Walter Mattson, Zilioli Fulvio, Joachim Rottinger



Exchanging party
---
Dan promotional testing at Okikukai HQ on Nov.18th

For the result, please check the Dan testing corner of HQ information.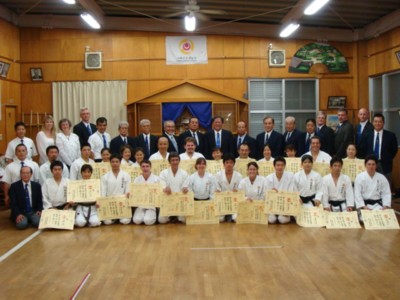 Comemorative photo
| | |
| --- | --- |
|   |   |
| Kotekitae | Jiyu-kumite |
---
STOUGHTON MA USA NOVEMBER 11, 2007
Students of Jack Summers 9th dan held Dan testing at Steve Banchick's dojo in Stoughton, Ma
Instructors(Photo1)
Steve Banchick, 7th dan
Mark Brelsford 7th dan
Joe Montanino 6th dan
Jim Piquete 6th dan
Russ Centamore 6th dan
Bill Giovannucci 6th dan
John Thurston 6th dan
Gary Goodman 5th dan
Robert Gremo 5th dan
John Cassiani 5th dan
Denise Laiosa 4th dan
Andre Tippett 5th dan

Test Candidates from Stoughton, Norwell, Abington, and Quincy dojos ( photo 2)

Rich Augusto Godan
Matthew Kelliher Nidan
Jeff Pimentel Shodan
Ryan Westover Shodan
Robert Gargano Nidan
Tania Vieira Shodan
Kristen Rosa Shodan
Dwight Chadbourne Shodan
Justin Flemming Shodan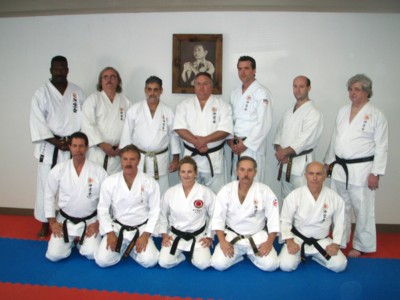 Photo1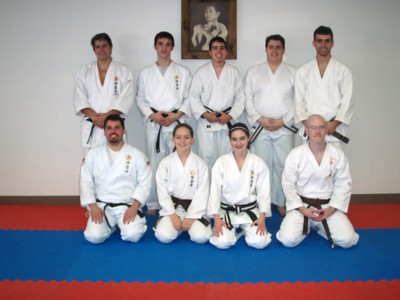 Photo2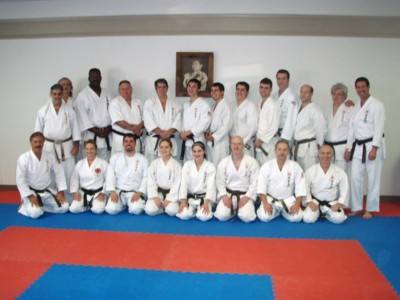 Group Photo  
---
2007 All Okinawa Karate do Championship Series & party for participants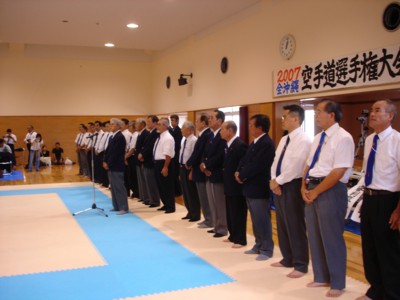 Directors & judges of the chanpion ship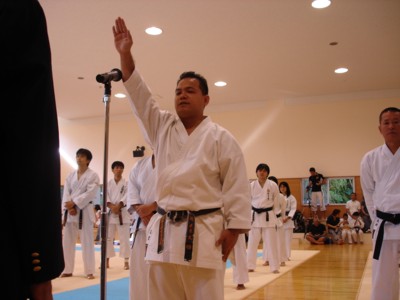 Opening ceremony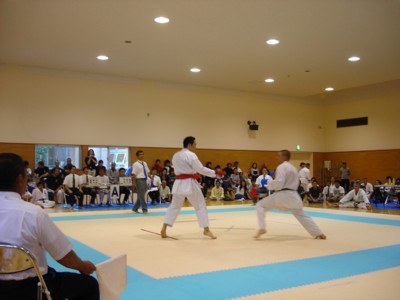 The final match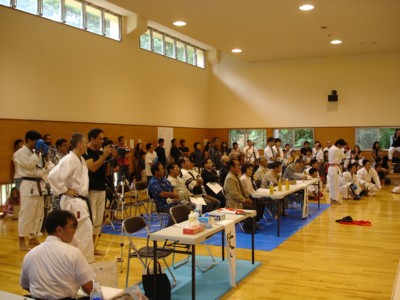 Garrery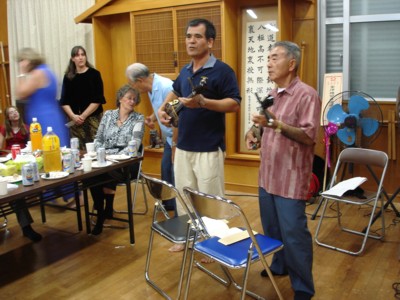 Welcome party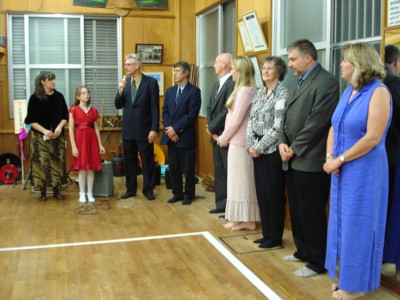 Welcome party/ member of USA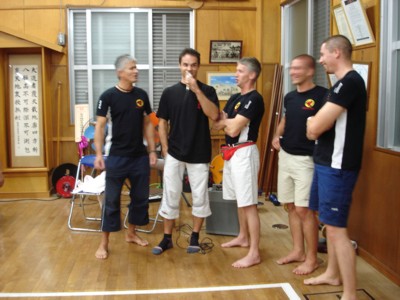 Welcome party/ member of Slovenia
---
Participants from Okikukai Slovenia
for 2007 All Okinawa Karate do Championship Series.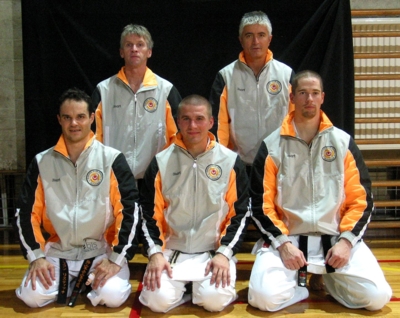 Participants
First row (from left):
Mare Zeleznik/ 1st Dan
Matjaz Koncina /2nd Dan
Marko Sefman/3rd Dan
Second row (from left):
Stane Nadizar/5th Dan
Drago Risti /5th Dan

---
Kick off meeting for 2007 All Okinawa Karate do Championship Series.  
On 16th/sept, We held kick off meeting for All Okinawan Karatedo Championship Series.
We had consensus for schedule and rules of the tournament, We introduced selected participant and we heard statement from the selected participant and announced the guidance for special training for those selectedparticipant.
---
Year 2007 All Okinawa Karate-Do champion ship  
 Okikukai HQ will hold "The 2007 All Okinawa Karate-Do Champion ship" on Nov.10.
 *Date/Nov.11 10:00AM-
 *Place/Okinawa city martial arts hall
 *Entry Fee/2,000yen
 *Entry sheet<PDF file>/
click here
& Fax to Okikukai HQ <Fax +81-98-936-4413>
 *Dead line of entry/Oct.10
 *Black belt Karate-ka can entry it
2007 All Okinawa Karate-Do Championship Tournament
- Tournament Guidelines -

1. Name of Tournament : 2007 All Okinawa Karate-Do Championship Tournament
2. Day and Time : November 11th, 2007, 10:00 A.M
3. Place : Okinawa-shi Budokan (Okinawa City Martial Arts Hall)
4. Organizer : Okinawa Karate-Do Association
5. Cosponsor : Shureido
6. Organization of Competition
(1) Kumite : Individual free sparing tournament without special protective equipments such as head protector and body protector.
<Notice> However all contestants must wear Mouth-guards (Gum shields) and Groin protectors.
(2) Kata : Individual Kata tournament under three categories of Men's, Women's and Senior's
<Notice> Kata must be chosen from Uechi-ryu Katas up to Sanseiryu (excluding Sanchin)
<Notice> Seniors are for Men the age of 45 years or older
<Notice> Contestants cannot participate in both categories of Men's and Senior's. ( Double participation will not be allowed.)
<Notice> Contestants must perform a different Kata in each round from 1st round to the final round.(A Kata may not be repeated.)
7. Rules applied : Rules will be conducted with Okinawa Karate-Do Association Tournament rules only.
8. Participation and Eligibility : Open participation
<Notice> Contestants must satisfy both conditions of the age 18 years or older and Shodan grade or higher.(High School students will be disapproved)
<Notice> Contestants can participate both Kumite and Kata tournaments.
9. Participation Fee : 2000 Yen including Insurance. The fee will be collected at the Tournament.
10.Date of Registration : Contestants Registration must be done by October 10, 2007.
11. Application : Send the Application Form for Registration to :
Okinawa Karate-Do Association
1-7-11, Kitamae, Chatan-cho, Okinawa, Japan 904-0117
Attention to : Mr. Kosuke Yonamine / President
Fax. 098-936-4413 (from overseas +81-98-936-4413)

---
Boston, MA May 20, 2007

May 20, 2007 Dan Test Hosted at the Plymouth Dojo.

Walter Mattson 9th dan
Clark Jones 8th dan
Peter McRae 8th dan
Paul Fenichel 7th dan
Robert Rossati 7th dan
William Repoff 7th dan
Joseph Graziano 7th dan
Test Candidates from Southborough and Shrewsbury Dojos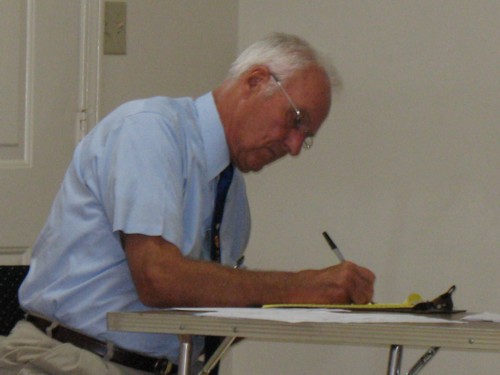 Walter Mattson sensei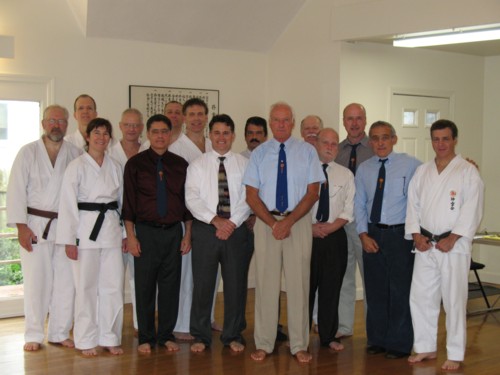 Comemorative photo1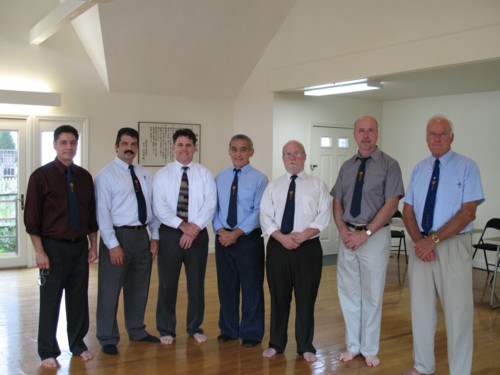 Comemorative photo2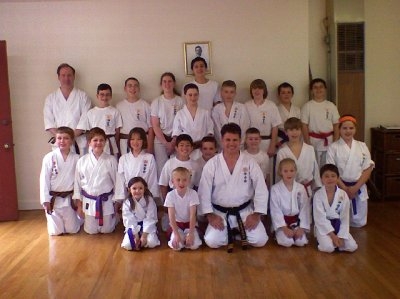 Peter Mc'Rae Dojo <Wed class>
---
QUINCY, MA APRIL 29, 2007

On Sunday April 29th students and friends of Jack Summers got together to honor him upon his receiving the 9th dan promotion.
Many old friends as well as former students turned out for the occasion joining current students for good food and conversation.
There were no political boundaries as members of Shohei ryu and Uechi ryu USA organizations partied together at the Fours banquet facility in Quincy Mass.
There was a presentation of the diploma sent over from Okinawa as well as a notebook containing letters from well wishers from all over the world.
This party came as a complete surprise as everyone was able to hold back from sharing any information with Summers sensei during the weeks of planning.
Summers sensei is most grateful for this honor and will continue to carry on in the manner that is expected of him as a 9th dan.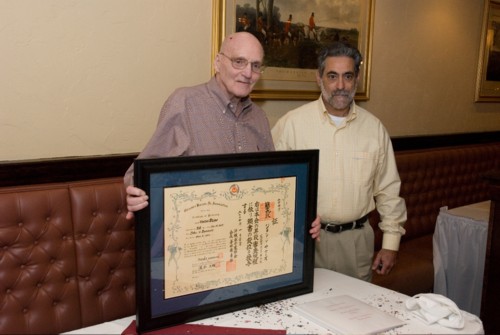 Steve Banchick and Summers sensei

Mr and Mrs Summers
Summers sensei dojo members Quincy Mass

---
Jack Summers, Quincy Massachusetts USA Okikukai Promoted to 9 dan

Summers sensei met the stringent time qualification standards in November 2006.
On January 28, 2007 the Okikukai Board of Promotions decided upon promoting
Summers sensei to 9th dan as the first order of business
at the board meeting in the New Year.
It was unanimously approved.
Congratulations Summers sensei.


---
Okikukai HQ's new year party

On January 28th, Okikukai Head Quarter held annual New Year party at training center. Many of Okikukai members were participated in this party including executive teachers from each Dojyo.
A New Year party started from president's greeting then Inada counsel gave a toast. After meal time, all of members enjoyed various different games, 100 yen Jyanken, bingo and so on. In this year's 100 yen Jyanken game, Inada counsel and Higa counsel went up to the final and Inada counsel got a New Year special bonus (Otoshidama) as a reward for the game. After the games, each of executives teachers made New Year speech then the party was ended with Okuhama vice president's closing ceremony.
In addition, instructor license was given to Mr. Oshiro and Mr.Nagamine during this party.



---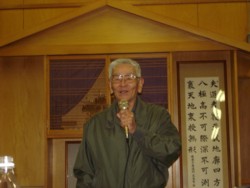 Tomoyose Hanshi 10th Dan






<Tomoyose counsel entrance into Uechi Ryu Karate-do Union honorary adviser>
Tomoyose counsel entrance into Uechi Ryu Karate-do Union honorary president on December 19th, Heisei 18.














---

Master Katsuyoshi Higa's (Chatan Dojo) promotion party was held on December 17th.

The warm atmosphere party was held with approximately 50 participants.
First, Asato vice president made opening speech then Master Takamiyagi introduced
Master Higa's martial arts history.
After that, bouquet was given, Master Higa made speech then President gave celebration speech for him. Tomoyose adviser gave a toast to his success.
There was folk song show given by Machida brothers and Mr. Kiyuna (ti chi ka ya zu), magic show was given by Mr. Skotto Kiser as special entertainment.
During the party, Chatan town mayor and Kitanakagusuku village's chief made speech to encourage him.
The party was ended with Okuhama vice president's closing words.


| | |
| --- | --- |
| | |
| Master Katsuyoshi Higa's speech | Master Shigeru Takamiyagi's speech |
| | |
| --- | --- |
| | |
| "Sanshin" | Comemorative photo with participants |
---
From 27th/Sept to 2nd / Oct, 2006

Chairman Yonamine sensei , Shihan Takashi Aragaki (Ginowan Dojo)
Shihan Shozen Aragaki (Tokyo fukagawa OKIKUKAI) visited
Argentina for instruction of Karate and exchange friendship
First they taught at Miyagi Dojo (Shihan Kaoru Miyagi)A.M and P.M
Then taught at San Perdo Dojo(30 person participated) , Tonan DojoOn 8th/Oct,
They held seminor at Central Bank facility,
mainly taught basic movement, sanchin, kotekitae,Kata.
On that seminor, 60 person participated including
Gojyu ryu, Uechi ryu from states of Mendosa, Santa Fe and from Brasil, Urguay.
| | |
| --- | --- |
| | |
| Yakusoku kumite | Kotekitae |
---
Copyright(C) 2002 Okinawa Karate-Do Association All Rights Reserved.