Information from Head Quarter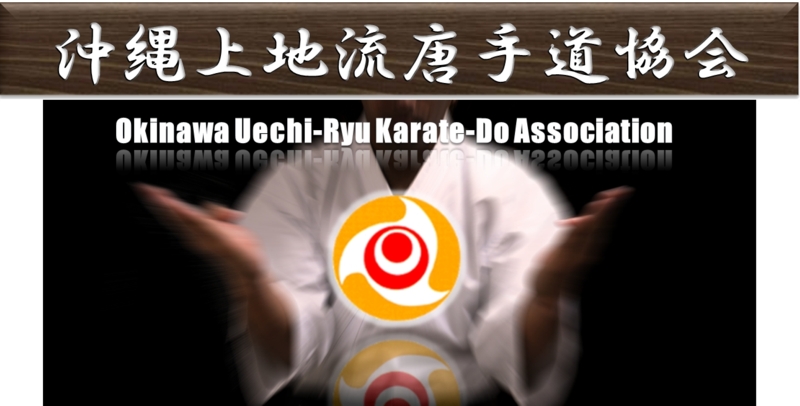 [Head Quarter]
1-20-12 Ginowan Ginowan City Okinawa, Japan
New Information !
<Last up date /Oct,24,2016>
---
Oct,24.2016



<Event schedule of Spring, 2017 in Okinawa)
OUKA Headquarter is scheduling 2017 Spring event as follows. More detail will be updated as it will be decided.
*June 3rd (Saturday), 2017 :Seminar, Grading and Party in Motobu, Okinawa
*June 4th (Sunday), 2017 : General Meeting
Please start arranging your schedule to attend the events.
---
Jun,7.2016

OUKA Headquarter sponsored annual event including special seminar, promotion test, general meeting and island tour on June 4th and 5th in Iejima island in where Uechi-Ryu founder, late Kanbun Uechi put his remaining years. He opened the last dojo here and brought up young students.
30 members from inside and outside of Japan visited memorial places and thought about the goodness of the deceased founder.
Decisions of a general meeting will be reported shortly.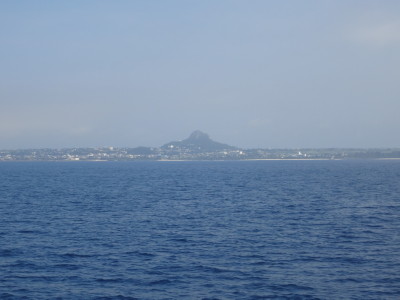 Ie island(Jun,4)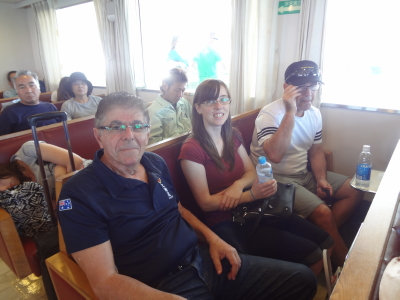 On the ferry boat(Jun,4)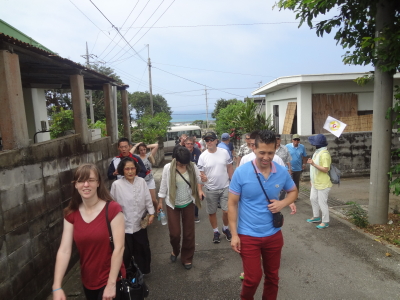 Walking tour at Ie island(Jun,4)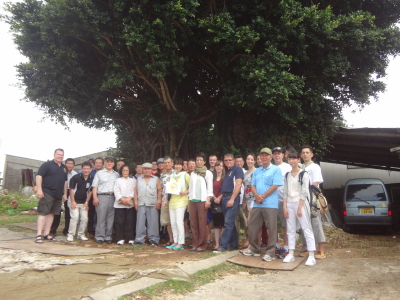 Photo with Kanbun Uechi's students since Wakayama dojo at the site of Kanbun Uechi's last dojo was located.
They told us that Kanbun Uechi used to train with Makiwara put next to Okinawan Banyan Tree behind.(Jun,4)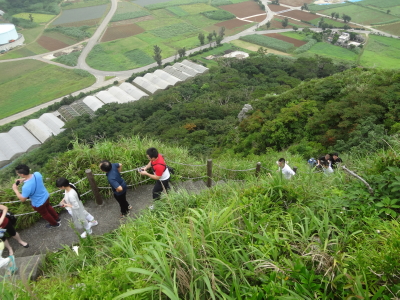 Climbing up Iijima Tacchu (Castle Mountain) (Jun,4)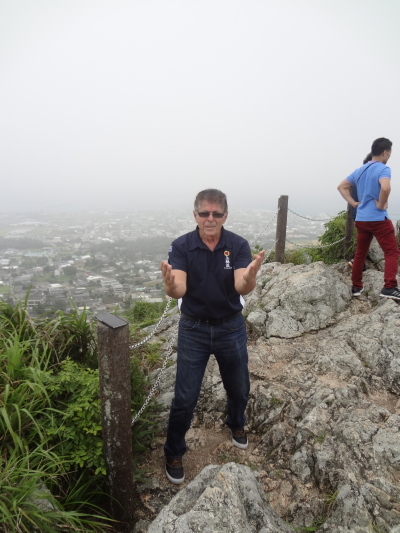 Climing up Iijima Tacchu (Castle Mountain). Photo at the top of the hill. Kanbun Uechi oftern trained here with enjoying great view of the island.
(Jun,4)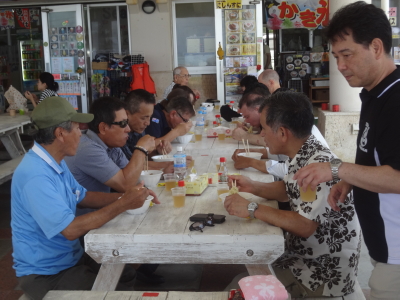 Lunch Time (Jun,4)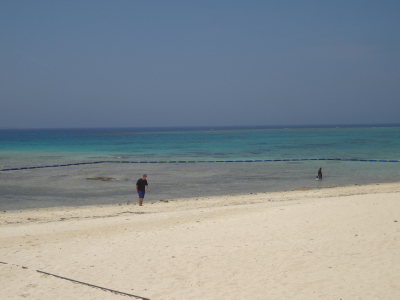 Ie beach(Jun,4)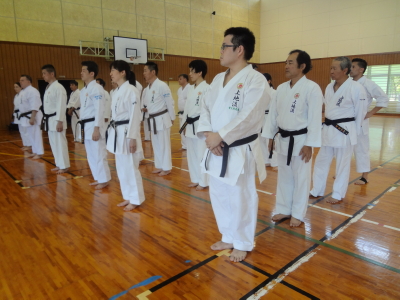 Special seminar in B&G Center Gym in the afternoon. Members from Okinawa, Tokyo, U.S, Australia, Germany and Russia participated in the seminar(Jun,4)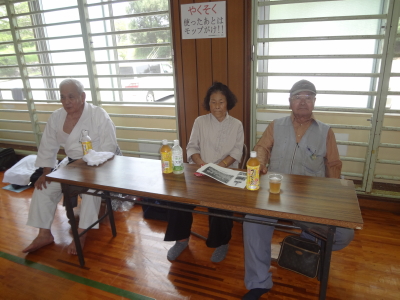 Two students of late Kanbun Uechi also joined the seminar
(middle and right in photo) (Jun,4)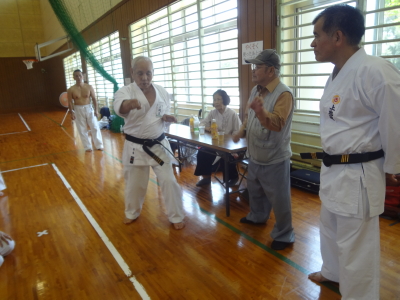 Mr. S.K explained technique he learned from Kanbun Uechi in Wakayama dojo (middle in photo).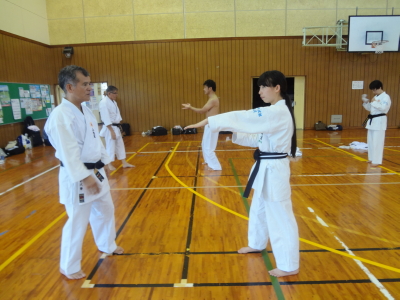 Sanchin (Jun,4)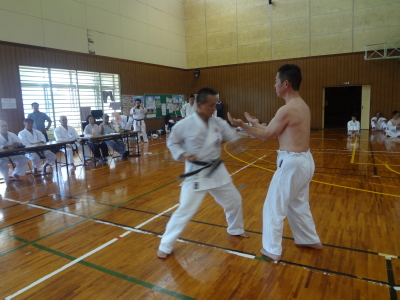 Dan testing(Jun,4)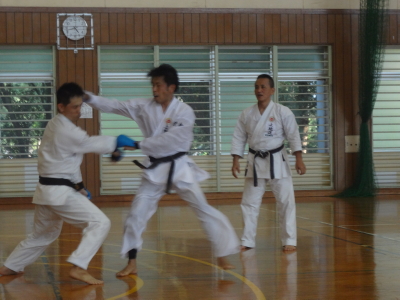 Dan testing(Jun,4)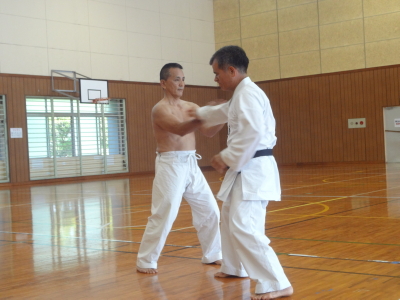 Dan testing of Takara Kazuya sensei(Jun,4)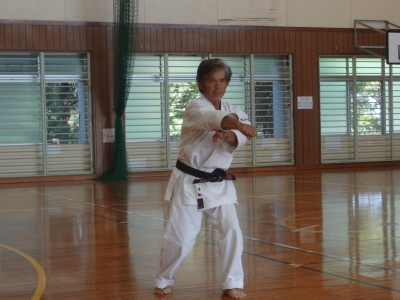 Sensei Kina's Kata demonstration for his 9th Dan promotion. (Jun,4)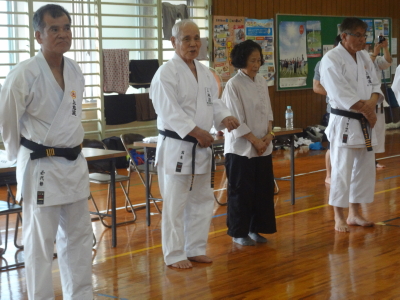 Takara sensei 's comments for seminor & testing(Jun,4)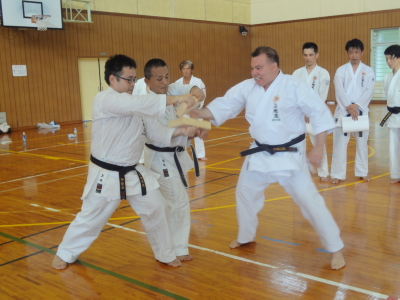 Waktang sensei(Russia)'s demonstration(Jun,4)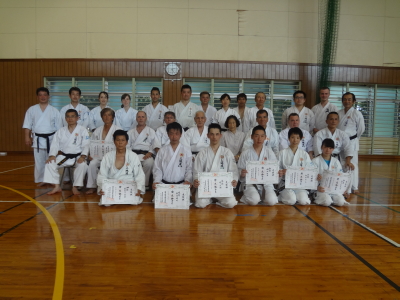 Group photo(Jun,4)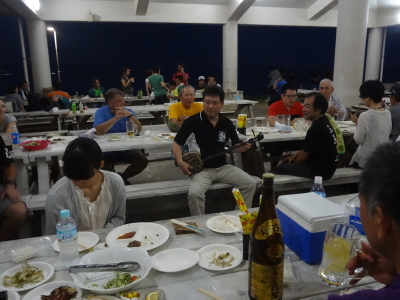 Beach party(Jun,4)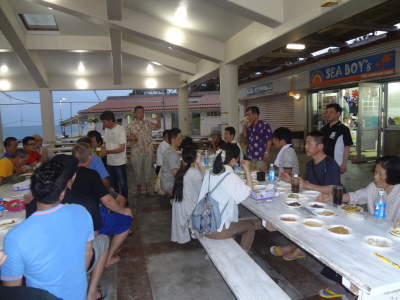 Beach party(Jun,4)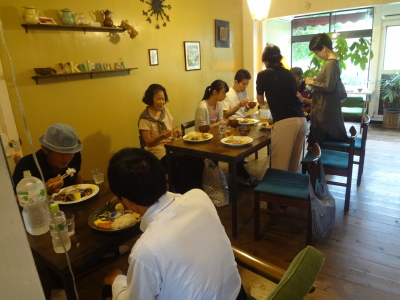 Breakfast(Jun,5)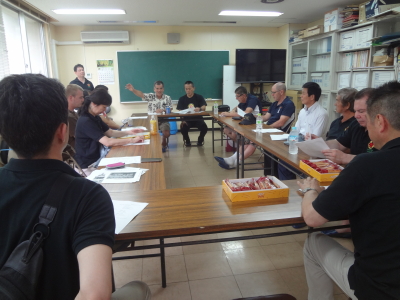 Genelal meeting in B&G Center Gym (Jun,5)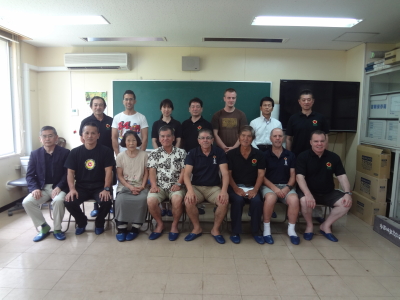 Group photo(Jun,5)
---
Mar,25.2016



Mr. & Mrs. Nikura (Tokyo Branch members) visited Futenma Dojo and Ginowan Dojo for Karate training.
It was very special occasion for Mr. Nikura, who took out the instructor license on March 1st, to improve his capability as OUKA certified instructor.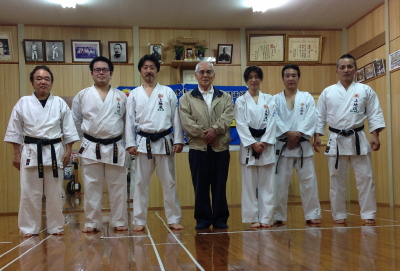 Futenma Dojo(May.18)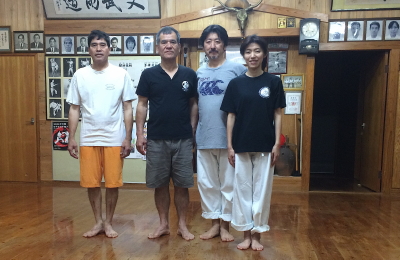 Ginowan Dojo(May.21)
---
Feb.2.2016

Okinawa Headquarter held the Directors meeting with attendance of directors and officers from Okinawa and Tokyo on January 30, 2016. After the meeting, the headquarter sponsored New Year's Party at Ginowan Dojo inviting more than 20 people including OUKA directors, officers and many guests who shared a good time with enjoyable conversation, great food and lots of Awamori.

<Flash news from the meeting>

1. Schedule of 2016 Spring events:
June 4th, 2016 (Saturday) : Special Seminar, Grading, Sightseeing and Beach Party in Iejima Island.
* Visiting the last dojo of late Kanbun Uechi's.
* Inviting living students of Kanbun Uechi's in Iejima Island.
June 5th, 2016 (Sunday) : General meeting.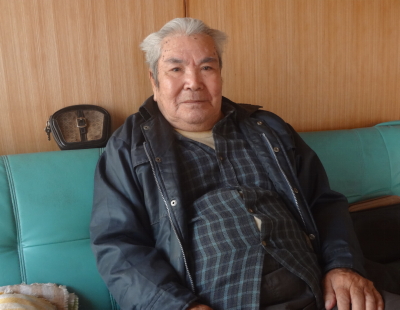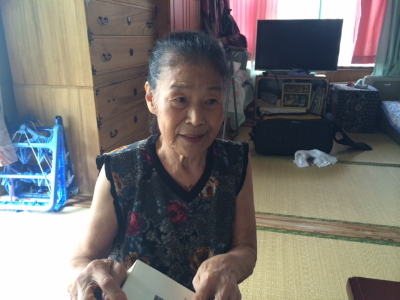 Students of Kanbun Uechi's who studied Uech-Ryu
at Wakayama and Ie island Dojo.
(left person;90 years old / right one ;80 years old)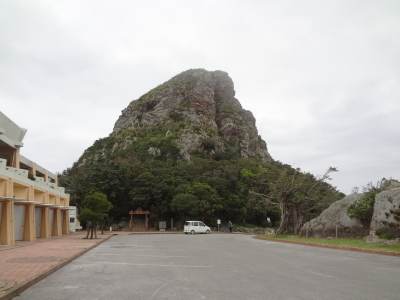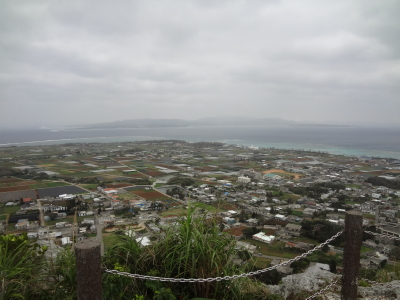 Mt.Gusuku in Ie island. On the top, Kanbun Uechi trained Karate with them.
2. Uechi Ryu Karate Do 100th anniversary of its founding
OUKA start discussing about 2025 Uechi Ryu 100th anniversary events (ceremony, reception, seminar, commemorative items etc.)
OUKA tries to take the lead in calling out to Uechi Ryu organizations in Wakayama, Okinawa and mainland to ask for cooperation.
More detail will be announced later.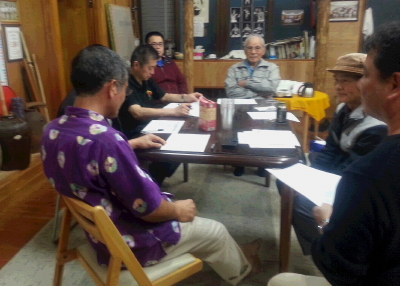 Board meeting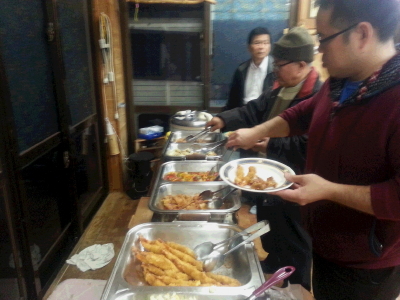 New Year's Party main dishes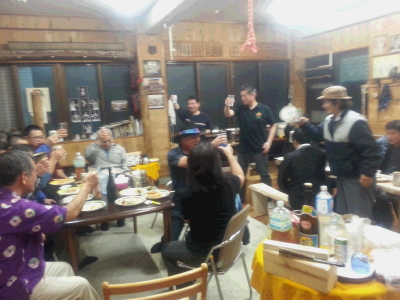 New Year's Party "Kanpai"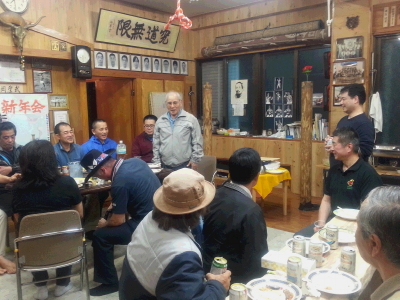 Shintoku Takara sensei's speech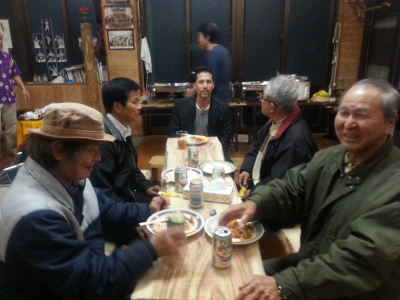 New Year's Party
---
Jan.1.2016

OUKA New year's greeting message
President

Katsuji Tamayose

I hope all of you are greeting a new year. It was a busy year with 5th anniversary events of the Association and 20th anniversary celebration of Tokyo branch last year. On our 6th year, I would like to make the best effort for further development of the Association. Then I am looking at overseas, especially interested in South American countries and I think it will be great if we can visit there for seminars.When it will be happened, your cooperation will be appreciated.
I wish you a healthy year of 2016 and please encourage yourself for further improvement of Karate technique and spirit.


Chief Director of The Boards

Kensho Kina

A Happy New Year!
I appreciated your participating in 5th anniversary events last year on your busy schedule.
I wish all of you a healthy and prosperous 2016.

Adviser

Walter Mattson

I hope you are enjoying holiday season with your family, friends and students.
Time goes so fast and 2015 is ending within a few days.
I would like to ask you to give me your new year's greeting message to our members. Short message will be fine. It will be uploaded to our website.
May 2016 be a healthy and prosperous year for all of you.


Adviser

Arthur Moulas




To All Okinawa Uechi-Ryu Karate Do Members,
Angela and I would like to wish you and your families a safe and healthy New Year 2016, we are looking forward to meeting and training with you in June.
Best wishes to you all.


Director of
the boards

David Hayward


"I wish all OUKA members a happy and prosperous 2016. I encourage all members to keep training hard to improve our standard of Uechi Ryu Karate.
For those who can make it, I look forward to seeing you at our annual seminar in Okinawa in early June." Kindest regards
---
---
HQ & Dojo guidance in Okinawa !
<Renewed on Dec,13th,2009>
Dojo's name

Master Instructor

Dojo's adress

TEL

Ginowan Dojo


Katsuji Tamayose
<9th Dan>

1-20-12 Ginowan Ginowan City Okinawa


098-893-3147

Itoman Dojo

Nobumasa Omine
<9th Dan>

337 Kiyan Itoman City Okianwa

098-997-3411

Futenma Dojo

Kazuya Takara
<7th Dan>
Ginowan City

Ishikawa Dojo



Kensho Kina
<8th Dan>

Uruma City
---
Uechi-Ryu Okikukai Head Quarters
Activity Plan,2016
| | |
| --- | --- |
| Jun/5 | General meeting <Ie island> |
| Jun/4 | Special seminor / Dan testing / Beach Party <Ie island> |
| Jan/30 | Borad meeting / New year's party |
---
Official Dojo Certificate
---

Now Planning


---
---
Copyright(C) 2002-2016 Okinawa Uechi-Ryu Karate-Do Association All Rights Reserved.