Information from Head Quarter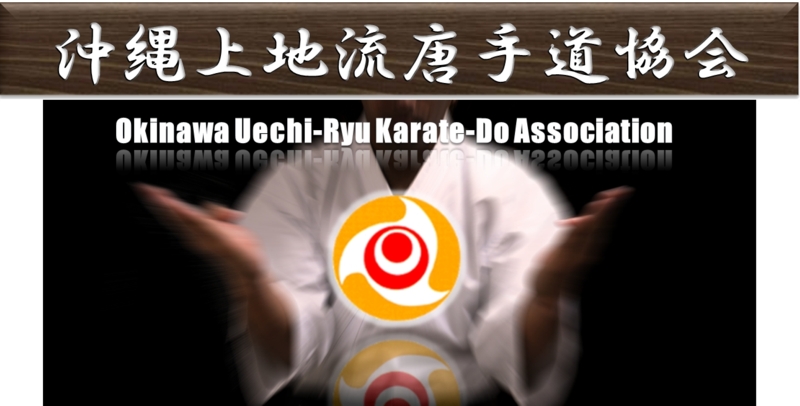 [Head Quarter]
1-20-12 Ginowan Ginowan City Okinawa, Japan
New Information !
<Last up date /Oct,19,2014>
---

Oct,19,2014



NHK (Japan Broadcasting Corporation) will broadcast TV program focusing on Okinawan Karate as scheduled below.
1. TV Program : NHK WORLD (English)
2. Title : "手 Tee ? The True Spirit of Okinawan Karate"
3. Time (Japan Time):
November 2, 2014 9:10 AM ? 9:59 AM
15:10 PM -15:59 PM
21:10 PM -21:59 PM
3:10 AM ?-3:59 AM (November 3)
Our organization helped TV crew for filming with demonstrations by Shintoku Takara Sensei and our members. Please check TV program in your country and enjoy watching it.

---

Oct,13,2014



<Oct High school students begin to experience Karate during excursion (Ishikawa dojo)>

Ishikawa dojo welcomed Girl students from Touougijyuku high schhol from Aomori prefecture.
Kina sensei taught history and skill of Okinawa karate , and Ishii instructor taught Sanchin.
Girls students was pleased to study and experience world famous Okinawa karate not only sightseeing or peace issue of Okinawa.
Ishikawa dojo will accept guest for year around.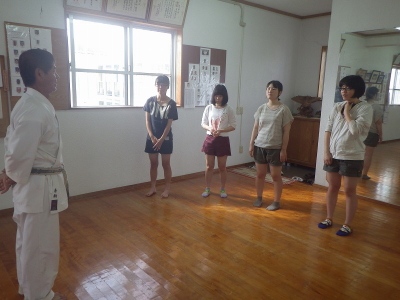 Study of Okinawa Karate histry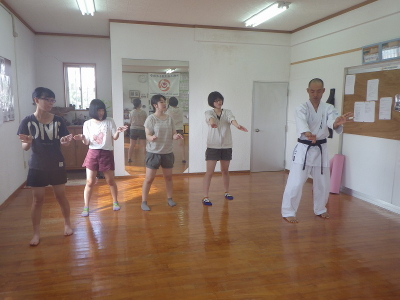 Sanchin study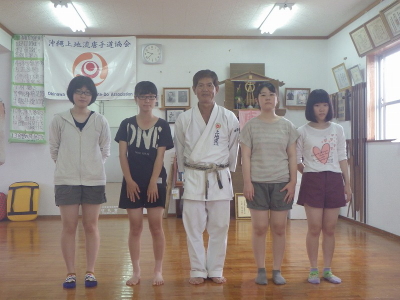 Grop photo with Kina sensei & students
---

Oct,12,2014



<Ishikawa dojo supporting Okinawan heritage education>
Uruma city raised volunteer who can educate Okinawan heritage (Karate,Sanshin, Dancing) and support bed and breakfast for high school student for their excursion.
Ishikawa dojo apply for this offer and approved by Uruma city.
It will be good opportunity to introduce Uechi ryu karate , Okinawa prefecture fixed to receive 58 high schhol (10,000 students) excursion from Oct,2014.
Ishikawa dojo accept 3-4 persons / week for 2 night who can .

---

Sep,22,2014



<Approval of official dojo in Germany >

On 21st / sept, Head office had temporary board meeting to judge about approval of official dojo in Germany which offered from Mr Markus Wedel and his offer is approved by board meeting.This is 2nd German dojo after Mr Thomas Podzelny's dojo.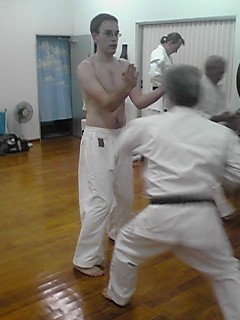 Mr Markus Wedel (3rd Dan)
---

Sep,17,2014

< 2nd Special Practice >

On 14th / Sept, at Ishikawa dojo , board members had 2nd special practice and rehearsal for TV program and after that, they had send off party for Mr Tamayose / chairman and Mr Takara / chairman of the board who attend to 15th anniversary event of German branch.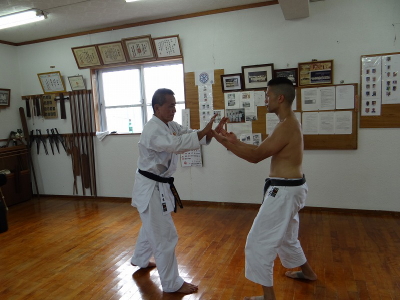 Sanchin prctice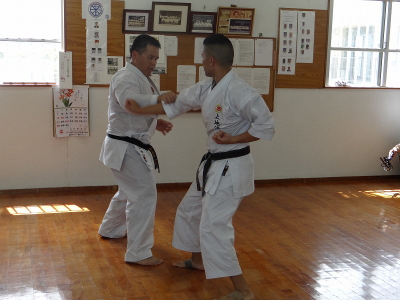 Kanshiwa Bunkai prctice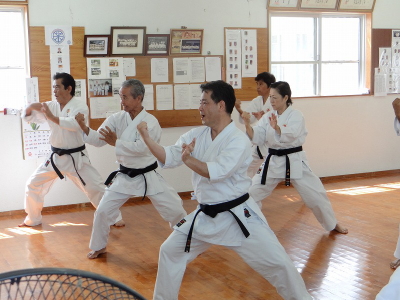 Kata prctice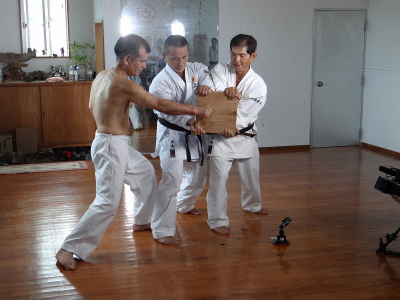 Tameshiwari prctice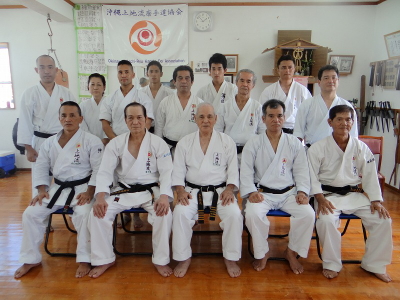 Group photo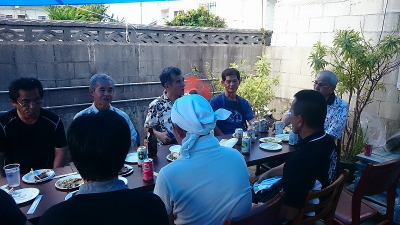 Party1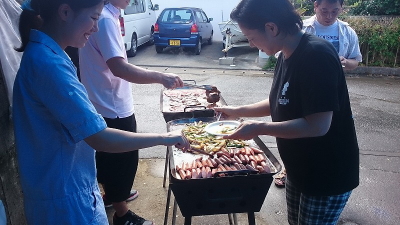 Party 2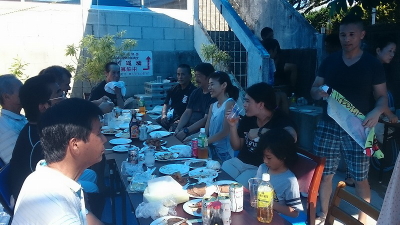 Party 3
---

Sep,9,2014

< Special Practice>

OUKA HQ directors and advanced members had a special practice and rehearsal for TV filming on September 6 (Saturday). Movement of Dan Kumite, which will be back to the promotion test subject next year, was checked by HQ directors.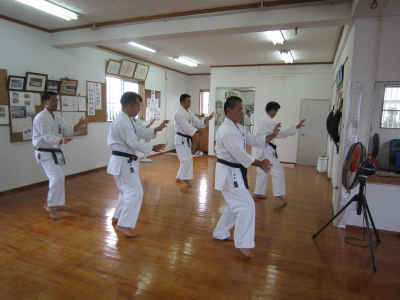 Kata prctice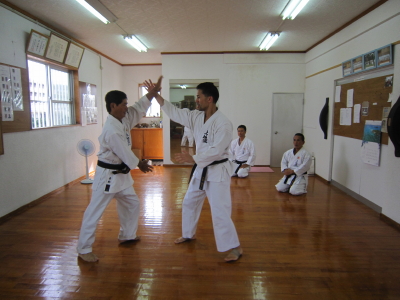 Dan kumite practice
---

Sep,4,2014

< International Exchange of Karate Practice>

Mr. Stefano Siri, a Karate-ka (37 years old, Nanbu-Do Sankukai, 2 Dan) from Milano, Italy participated in Uechi-Ryu experience practice in Futanma Dojo on Sunday, August 17th, 2014. Stefano san came to Okinawa to experience various styles of Karate in the origin of Karate, Okinawa. He spent fruitful time by training in Futenma Dojo and Ginowan Dojo.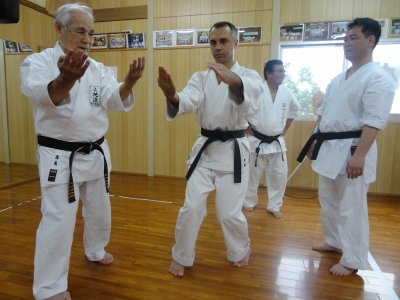 Sanchin instruction by Grand master Takara sensei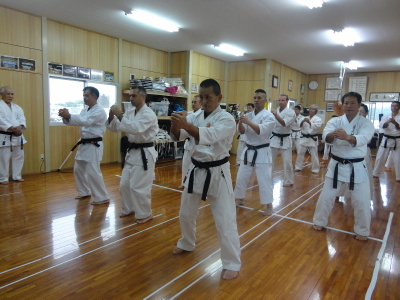 Karate practice at Futenma Dojo
---

Sep,2,2014

<31st / Aug Journey to Uechi history>

on 30th / Aug, president Tamayose and Mr & Ms Nikura visited old student of Uechi-ryu.
They did interview to Ms H.K. (78 years old) living in Naha, she was born at Iejima and learned Sanchin for 1 year from Kanbun Uechi sensei.
She told memories of those old days and show us photo of Uehci ryu Shubukai members in 1956.
This interview is recorded in movie and plan to show to O.U.K.A members the otherday.
This interview is very important evidence of Master Kanbun Uechi taught Karate to woman student.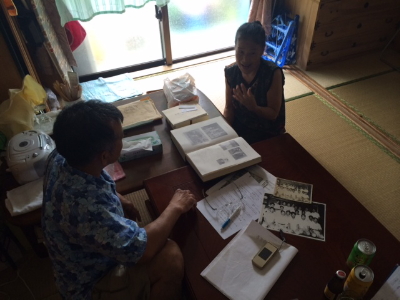 President Tamayose & Ms H.K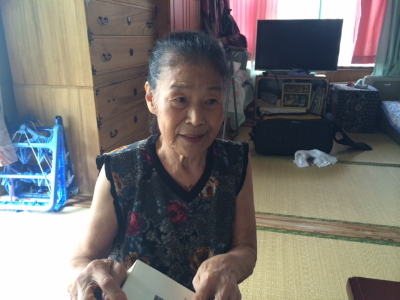 Ms .H.K
---

Aug,29,2014

<Cultual Exchange >
3 participants (Goju-ryu and Shito-ryu) to Karate Premier League in Okinawa Japan from Spain visited Ginowan Dojo to have Uechi-Ryu experience and a lecture by President Tamayose on August 27, 2014. They would like to learn the essence of Okinawa Karate-Do and to hand it down to the next genera.


---

Aug,15,2014

<Headquarters Director meeing report>

Regular directors meeting of Headquarters was held on August 3rd.
(1) TV program focusing on Okinawa Karate Do.
Headquarters appreciate the value of a TV program planned by a TV production company and will actively cooperate them for the TV production.
(2) Dispatching Senseii from Headquarters to Germany Branch
Headquarters will dispatch Present Tamayose and Chief Director Kazuya Takara to Germany for the 15 th Anniversary of the establishment of Germany Branch on October.
(3 ) Dispatching Sensei to Australia
Headquarters will dispatch President Tamayose to Australia for The 40th Anniversary events on November.

---

Jun,21,2014

<Address by new president>
To members of Uechi-Ryu Karate-Do Association and all of Uechi -Ryu Karate -Do family in the world.
It has been 4 years since the new organisation was established. I believe the organisation has became firm year by year. It was proved by many efforts of members in such as seminars, grading test, tournament and so on.
What I would like to do as president now is to inclease Uechi -Ryu members all over world. I would like to ask many my friends, whom I have met for my past 45 years, to get together. Especially I am expecting new members to join us from South America and Europe who have been long time friends of mine.
Our organisation is concentlating the concept of Soft &Flexible and Muscular &Hardness. I intend to develop the organisation 3 years by 3 seasons. It means the first 3 years will be a new start to me, next 3 years will be a progressing stage and a final 3 years will be my conclusion season. It may sound abstract, but I will make it concrete. I would appreciate it if you would cooperate with me for my goal.
Before closing my address, I would like to express how I feel sorry about big loss of Jack Summers Sensei in the United States. He was very special and must be remembered as the man of merit for the development of Uechi Ryu Karate Do in the United States. Please accept my deepest sympathy. May his soul rest in peace.
Katsuji Tamayose
President / Hanshi 9th Dan
Okinawa Uechi- Ryu Karate- Do Association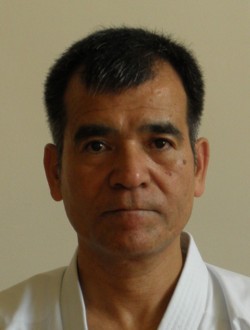 ---

Jun,16,2014

<Reports of OUKA HQ evevts>
Okinawa Uechi-Ryu Karate -Do Association Headquarters sponsored 2014 Spring event including Advanced seminar, Dan Promotion Test, Welcome Party and Annual General Meeing in Okinawa. Many participants, not only from each dojo in Okinawa but also from branch dojos of Tokyo, Aichi, United States, Australia and Russia, studied each Kata with checked and corrected by Grand Master Shintoku Takara Sensei and high ranked Senseis. 8 members from 2 dan to 5 dan were successfully promoted at Dan grading test, then they recived the certificates wkth big celebration in the party.
OUKA Annual General Meeing was held on June 15th and several subjects such as Proposal of 2014 -2016 Personnel Plan, Applicatin from overseas, 5th Anniversary Events of OUKA Organization.,20th Anniversary Events of Tokyo Branch, 40th Anniversary Events of Australia Branch and 15th Anniversary Events of Germany Branch were discu/after action and according reports of 2013 . Mr. Katsuji Tamayose was erected for the new President of OUKA and OUKA new operation year has just started under him.

Followings are the schedule of Australia Branch 40th anniversary events, OUKA HQ 5th anniversary and Tokyo Branch 20th anniversary events. Please check your schedule book for these events. All of us look forward to getting together in the events above.

1. 40th Anniversary Events of Australia Branch Date : October 31 (Friday) - November 2 (Saturday ), 2014 Events : Karate &Kobudo Seminar, Grading test, Demonstration, Dinner and Sightseeing.

2. OUKA 5th Anniversary Events in Okinawa Date : May 30 (Saturday ) - May 31 (Sunday ), 2015 Events : Karate Seminar, Dan grading test, Demonstration, Party, and Anniversary goods .

3. 20th Anniversary Events of Tokyo Branch Date : June 6 (Saturday ) - June 7 (Sunday ), 2015 Events : Karate seminar, Grading test, Demonstration Sightseeing and Anniversary goods.
Hopefully many international members will be able to participate to both events in Okinawa and Tokyo by arranging the trip to Okinawa with stopping by Tokyo on the way back to the countries.
*Accommodation will be available in Tokyo Branch dojo.

Also Germany Branch will have 20th Anniversary events with following schedule.
Date. : October 3 (Friday ) - October 6 (Monday ), 2014 Please contact us for the detail.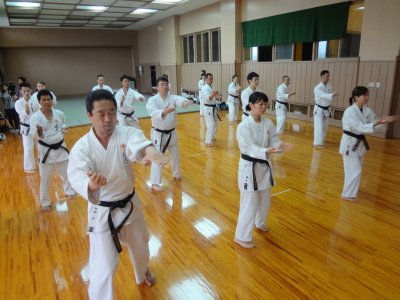 ●Seminor/Hojyo Undo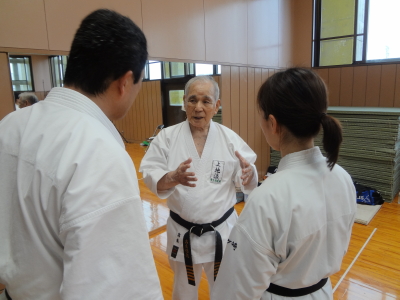 ●Seminor/ Grand master Takara Shintoku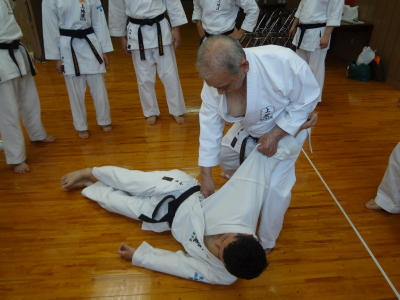 ●Seminor/ Yakusoku kumite by grand master Takara Shintoku(10th Dan)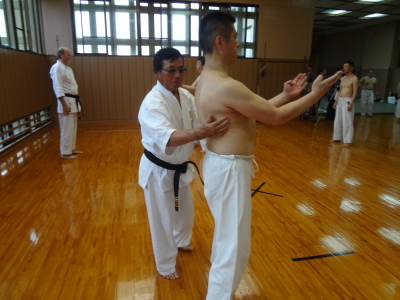 ●Seminor/ Sanchin check by Hanshi Ohomine Nobumasa(10th Dan)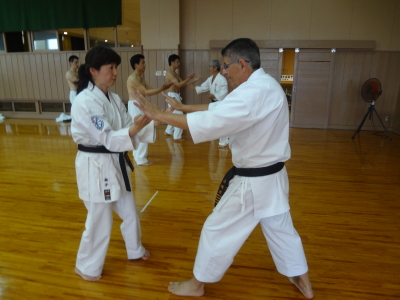 ●Seminor/ Sanchin check by Hanshi Arthur Moulas(9th Dan)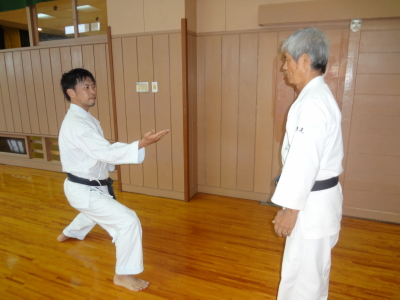 ●Seminor/ Seisan check by OUKA president Kina Kensho(8th Dan)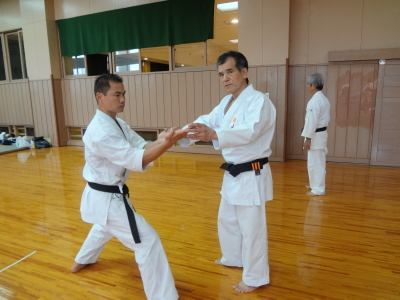 ●Seminor/ Seisan check by Kyoshi Tamayose Katsuji(8th Dan)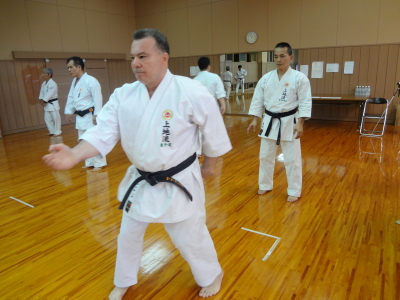 ●Seminor/ Seisan check by Kyoshi Takara Kazuya(7th Dan)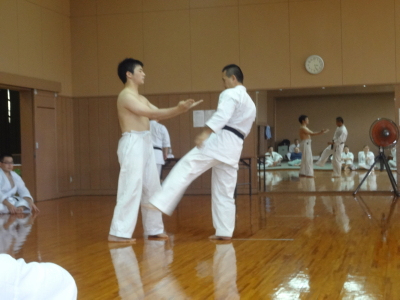 ●Dan promotional testing(1)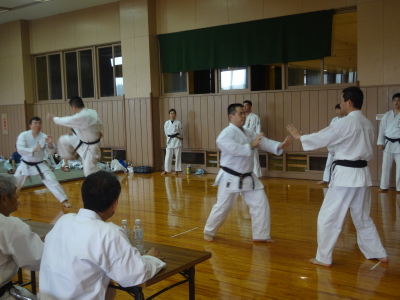 ●Dan promotional testing(2)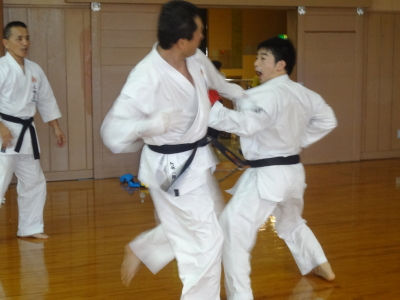 ●Dan promotional testing(3)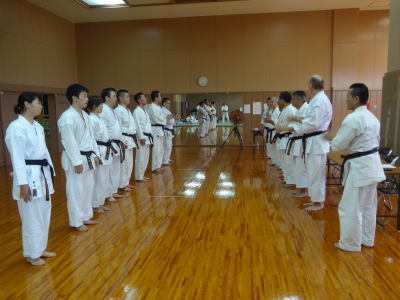 ●Dan promotional testing(4)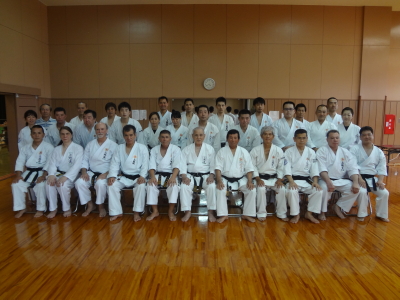 ●Group photo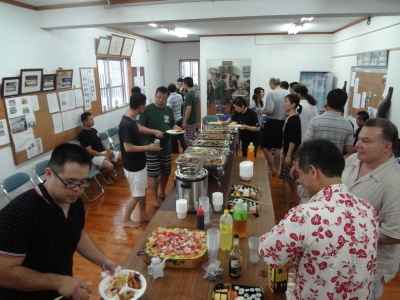 ●Welcome party(1)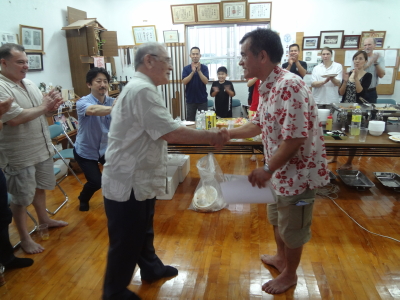 ●Welcome party(2)
Awarding of 9ht Dan certificate to Sensei Tamayose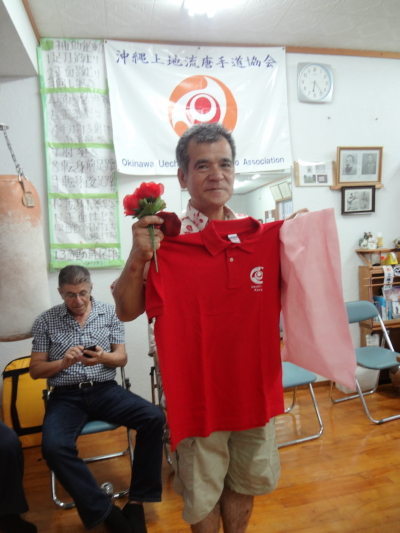 ●Welcome party(3)
Present for sensei Tamayose's 9th Dan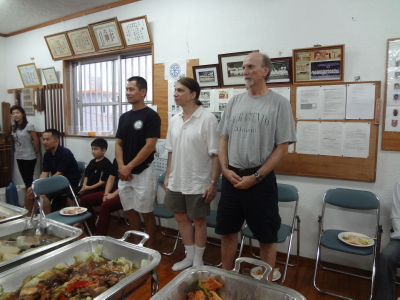 ●Welcome party(4)
Member from USA (rigth person;sensei Robert VanDer Volgen・Jr)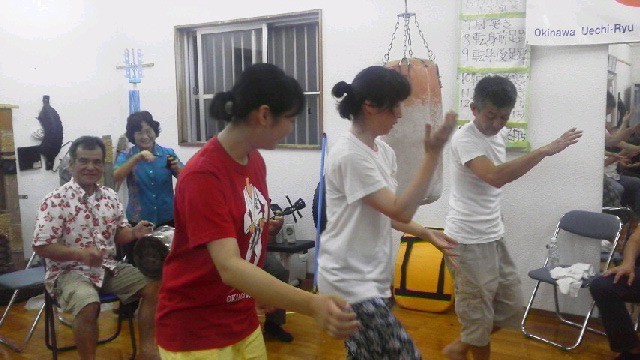 ●Welcome party(5)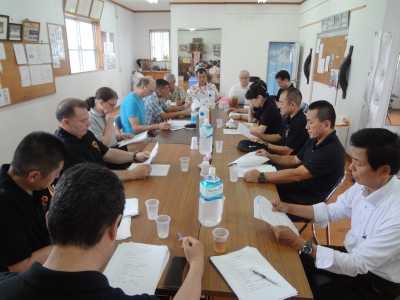 ●Anual general meeting(1)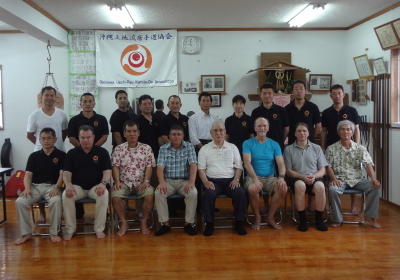 ●Group photo


---

Mar/13,2014

On 9th / March, Okinawa head office held periodical board meeting, Kata study, welcome party for German branch members.
We will announce contents of board meeting through PR section.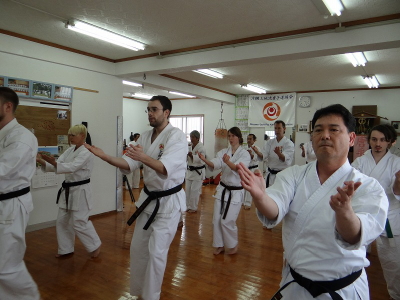 ●Sanchin (1)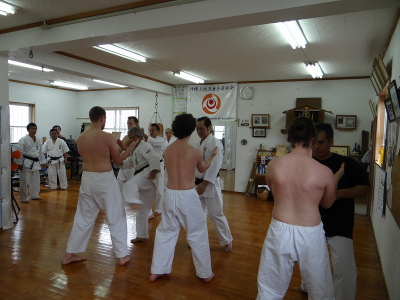 ●Sanchin (2)




●Sanchin (3)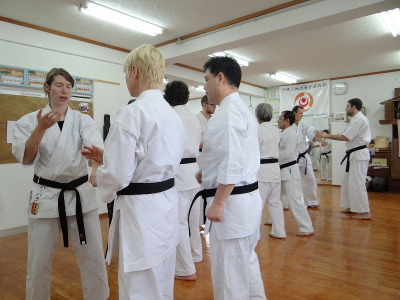 ●Kotekitae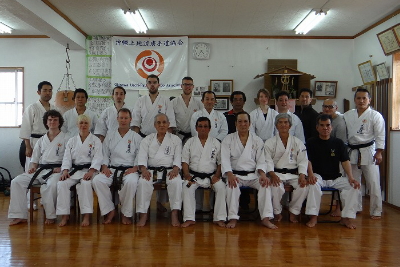 ●Group photo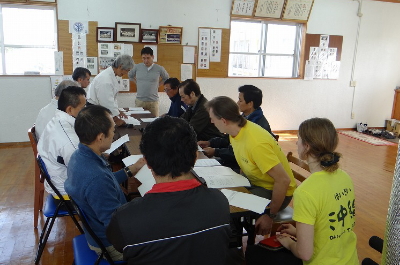 ●Board meeting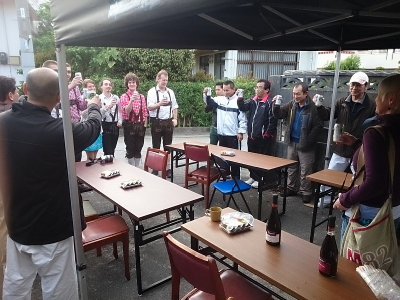 ●Welcome party for German branch member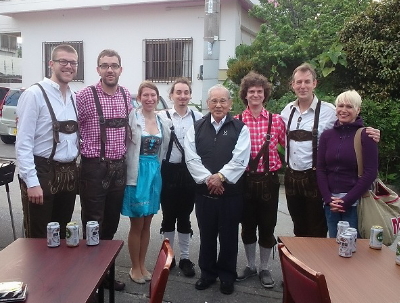 ●With Takara Shintoku sensei


---

Mar,10,2014

On May/6, Ishikawa dojo had a cultural exchange with the menber of Garman
branch.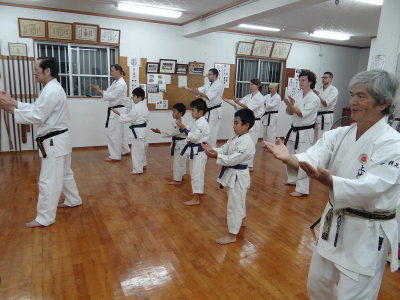 ●Sanchin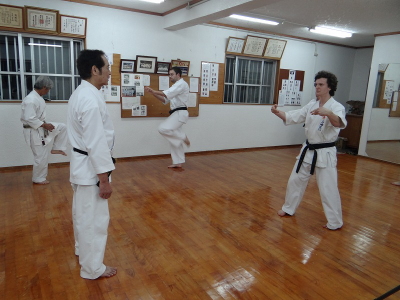 ●Kata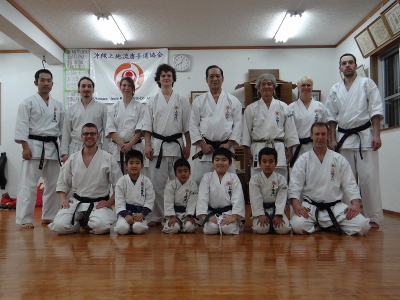 ●Group photo


---

Mar/3,2014

On 9th,March, Okinawa head office plan to have Kata study and periodical board meeting.
At the board meeting, board members discuss about new assignment for board member and approval of new application of foreign dojo.
Result will be announced to Public relation sec tion through branch manager and dojo owners.


---

Jan/28,2014

OUKA HQ held the new year party of 2014 at Ishikawa Dojo.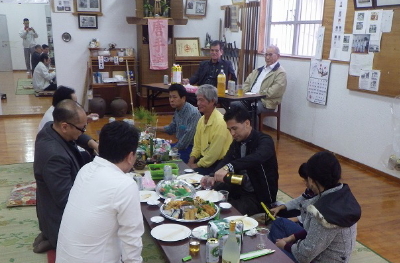 ●Party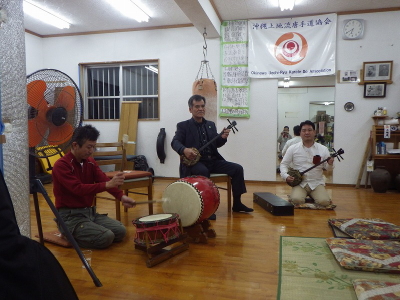 ●Sanshin Time


---
A happy new year !

Shintoku Takara / Grand Master

With best wishes for a Happy New Year.
Let us get together and keep making efforts to improve ourselves and Uechi-Ryu Karate-Do.
May wish the year of 2014 a wonderful and prosperous to all of you.       

Nobumasa Ohmine /
Senior Advisor

 
In this new year we are greeting, I wish all of members and families good health and practice.     


Walter Mattson/
Senior Advisor

I wish to extend best wishes for a wonderful holiday season and especially a very
" Happy New Year 2014!" from myself and member dojos of the Walter Mattson USA Dojo Group to Grandmaster Takara and to all OUKA brothers and sisters throughout the world!


Kensho Kina / President

May wish you a Happy New Year.
I would like to thank for your cooperation on the meetings, seminars and promotion tests. We had many visitors and trainees from Tokyo and overseas and we could feel consistent development of the association.
We will be able to achieve a goal not by strong greed for aggressive expansion of the organisation but by pure and natural posture like water current.


Katsuji Tamayose / Chairperson, Board of Directors


I believe all of you are greeting a happy new year.
Our association has been progressing steadily and we are stepping into 4th year since the organisation has been established. Now let's seek and study more the way of Karate-Do succeeded by the Founder and the Second Generation as members in one of three major Karate Do schools in Okinawa.

Kazuya Takara / Vice Chairperson, Board of Directors

With wishes for a Happy New Year.
I hope this year will be fruitful for all of you.


Shinzaburo Okuhama / Director

I wish you a Happy new year.
I would like to thank Tokyo Branch for inviting me to the Metropolitan Karate Do Tournament last year. I will make a contribution to further development of Uechi Ryu Karate Do in 2014.
May the year of 2014 be filled with peace and good health for all of you.


Arthur Moulas/
Director

To All Okinawa Uechi-Ryu Karate do members worldwide, I would like to wish everyone a Merry Christmas and a Happy, Healthy and safe New year.
I hope to see everyone in June 2014 in Okinawa.



Tutomu Shikiya / Executive Secretary

May the best wishes for a Happy New Year.
I would like to continue to do my best for tradition and study of Uechi Ryu Karate Do and further development of the association.
I wish all of Uechi Ryu loving members and families for great health.


Keisuke Fujimoto /
PR Manager, President of Tokyo Branch

May the best wishes for a Happy New Year and I hope the year of 2014 will be precious for all of you.
I am making the best effort to update the official website timely in order to make it an useful tool for generating and sharing information of the association, so please make an active use of the website for your information. Also please come and utilize our Tokyo Branch facility built in 2011.


Hiroko Hirao / Director, Vice-president of Tokyo Branch


With all the best wishes for a Happy New Year.
I believe we successfully made active and fruitful exchange among the headquarters, foreign branches and Tokyo branch last year. I will keep raising more power for activities of the association in this year.
I hope you will be healthy throughout the year.


Hitoshi Sumida / Communication Manager

May all the best wishes for a Happy New Year.
I so much appreciate the help, support and cooperation made not only by OUKA members but also by your family and friends. Since I would like to exert myself for healthy management of the association as best I may, please allow me to ask your continued support and encouragement in 2014.

---
---
HQ & Dojo guidance in Okinawa !
<Renewed on Dec,13th,2009>
Dojo's name

Master Instructor

Dojo's adress

TEL

Ginowan Dojo


Katsuji Tamayose
<8th Dan>

1-20-12 Ginowan Ginowan City Okinawa


098-893-3147

Itoman Dojo

Nobumasa Omine
<9th Dan>

337 Kiyan Itoman City Okianwa

098-997-3411

Kokuba Dojo
Takeo Tamaki
<9th Dan>
Naha City
Futenma Dojo
Kazuya Takara
<7th Dan>
Ginowan City

Ishikawa Dojo



Kensho Kina
<8th Dan>

Uruma City
---
Uechi-Ryu Okikukai Head Quarters
Activity Plan,2010


Now writing

---
Official Dojo Certificate

---
---
---
Copyright(C) 2002-2014 Okinawa Uechi-Ryu Karate-Do Association All Rights Reserved.