New Information !
<Back number Jan,2008-Dec,2008>
---


On 28th/Nov,2008, Sensei Arthur Mouras Dojo(Head office dojo of Okikukai Australia)celebrated their 35th anniversary of open dojo.
On that event, We send delegation from Okikukai head office Sensei Tamayose / Vice chairman, Sensei Yonamine / Director, Sensei Oshiro/secretary as well as 9 members from Tokyo branch and Sensei Ishiki / Ryukyu Kobudo.
All members participated Seminer, Dan promotion test, Enbu and Party.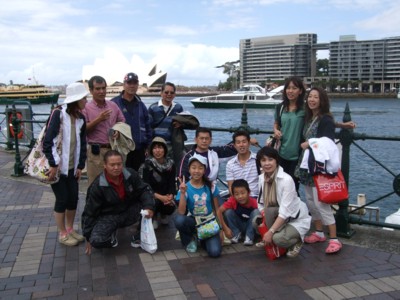 Sight seeing for members from Okinawa & Tokyo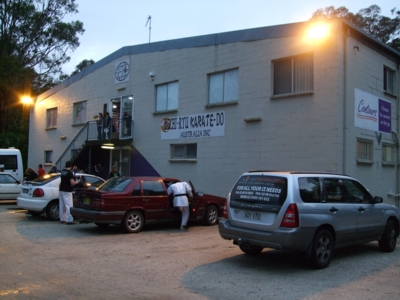 Arther Moulas sensei's Dojo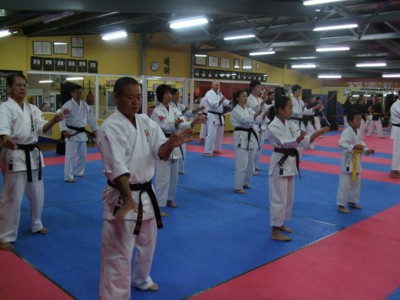 Karate seminor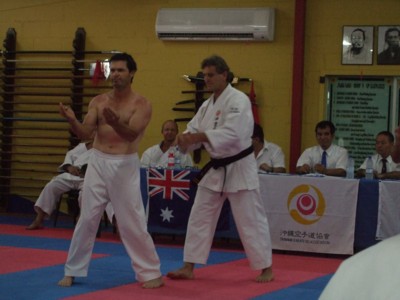 Dan testing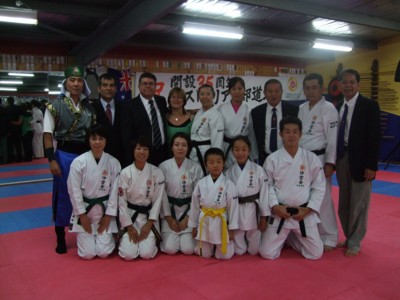 35 years Enbu kai
Comemorative photo with Arther sensei & Anjera san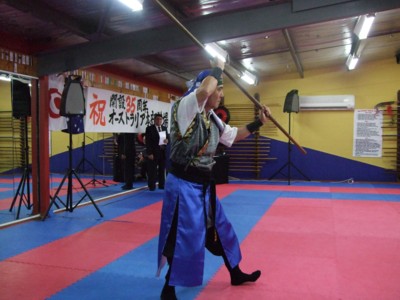 35 years Enbu kai
<Bou Enbu by sensei Ishiki>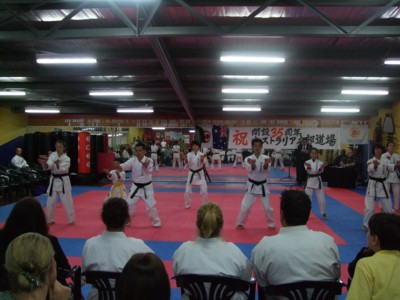 35 years Enbu kai
<Kanshiwa group Kata by Tokyo branch>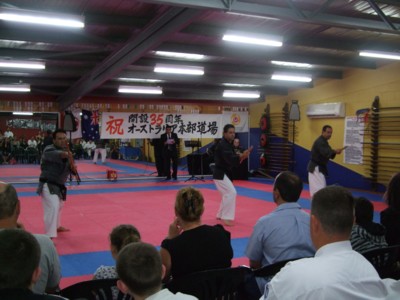 35 years Enbu kai
<Kobudo bou Enbu>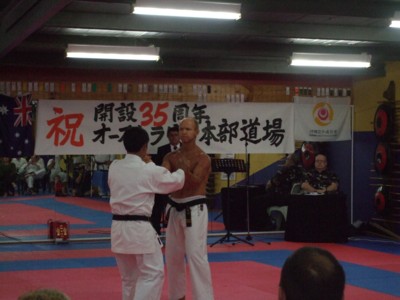 35 years Enbu kai
<Sanchin Tanren by sensei Tamayose>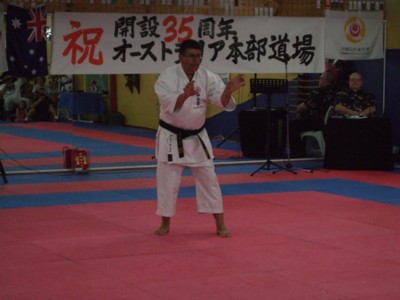 35 years Enbu kai
<Sanseiryu kata by sensei Arther Moulas>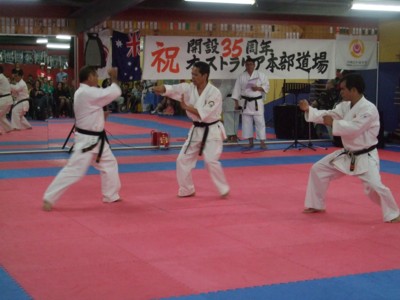 35 years Enbu kai
<Sanseiryu Bunkai by sensei Tamayose,Yonamine,Oshiro>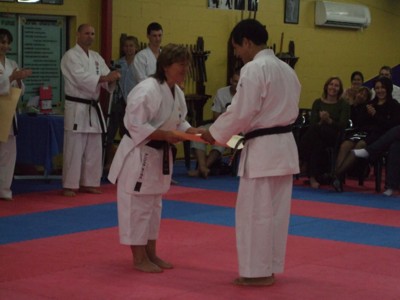 35 years Enbu kai
<Awarding of Dan certificate>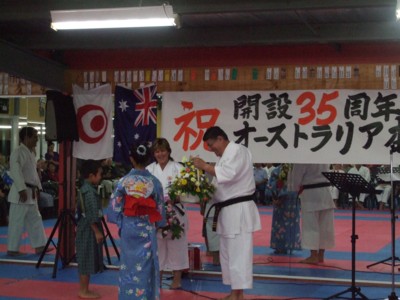 35 years Enbu kai
<Presentation of bouquet to Arther sensei & Anjera san>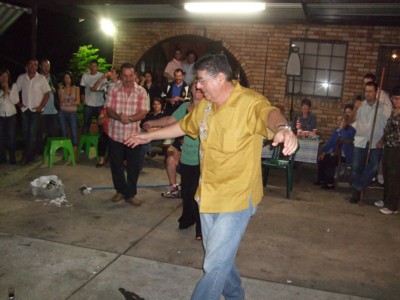 35years anniversary party at Arther sensei's home

---

On Nov.16th, we had spicial meeting with Mr.Walter Mattson sensei.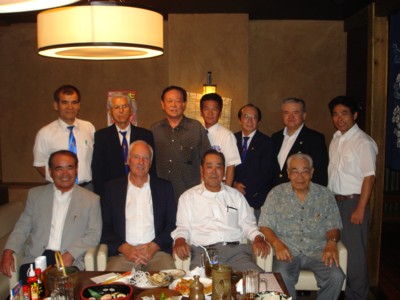 Comemorative photo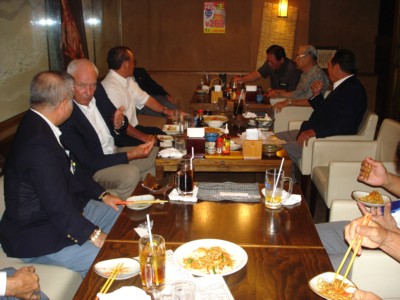 Water sensei & masters

---
Dan testing

On Nov.16th, we had Dantesting at HQ dojo.For the result, please check here.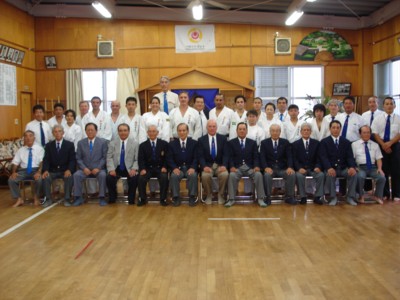 Comemorative photo

| | |
| --- | --- |
| | |
| Masters | Sanchin |
| | |
| --- | --- |
| | |
| Kata-Bunkai | Jiyu-Kumite |
| | |
| --- | --- |
| | |
| Masters | Kata |
| | |
| --- | --- |
| | |
| Kata | Kata |
---

Report of The Okinawa Karate-Do association's 20 years anniversary event.

We held 20th anniversary of OKIKUKAI foundation seminer and party at JYUBIRANCE a wedding hall in Ginowan city on 14th/Nov.
At the seminor, Grand Master Ryuko Tomoyose honored chairman of OKIKUKAI
(officially registered as okinawan heritage successor by Okinawa prefecture government) had speech titled (brush up humanity through discipline of karate) and demonstrated KATA ENBU.
More than 300 persons participated at the party which including members of Okinawa, overseas, from mainland of Japan, mayers, senetors and many karate related persons and had some attractions of RYUKYU DANCE.
It was very big and successful party.
We thank you for all participants.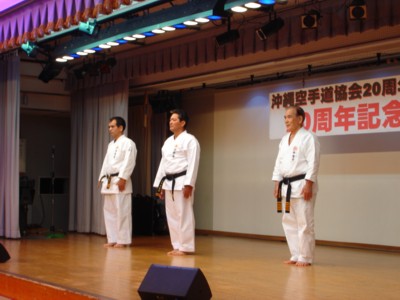 Seminor/Sanseiryu Kata & Bunkai
Shintoku Takara sensei :10th Dan
Katsuji Tamayose sensei : 8th Dan
Takashi Arakaki sensei : 7th Dan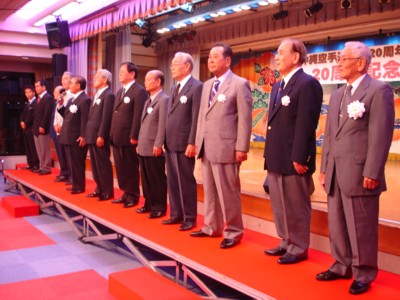 Party/Speach by president Nobuhide Asato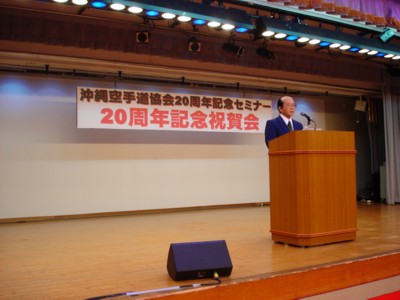 Spech by vice president Keicho Tobaru sensei
"Okikukai's 20years history"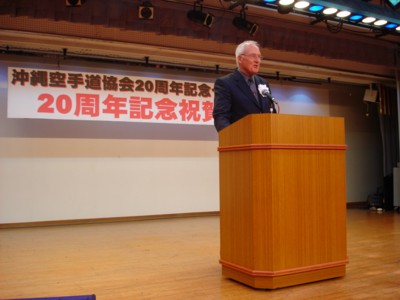 Speach by U.S Okikukai, Walter Mattson sensei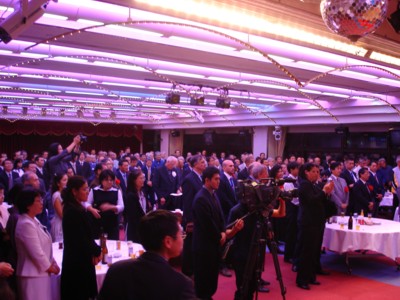 Participant of the party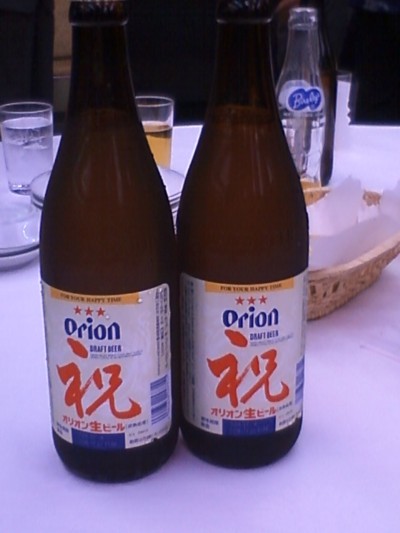 "The Orion beer" for the congratulatory banquet !

---
2008 All OKinawa Karate-Do chanpion ship series.

We held 2008 All Okinawan Karatedo Championship on 9th/Nov at Okinawa Budokan.
This tournament is 20th anniversary tournament of OKIKUKAI.
We had many participants from Overseas as well as from Okinawa and mainland Japan.
We thank you participants, judges, referees, and many audience.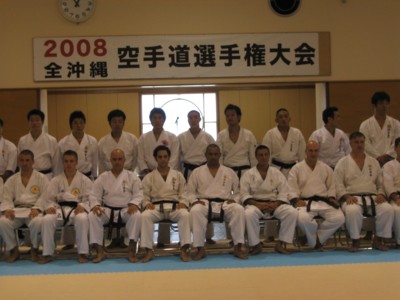 Participant of Kumite tournament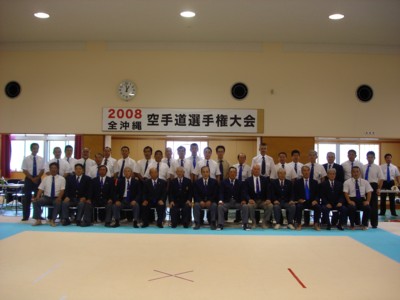 Judge & stuff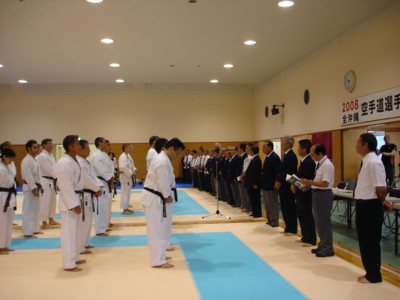 Opening celemony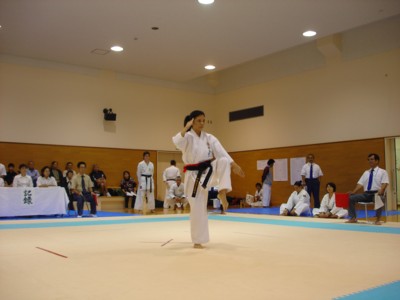 Kata tournament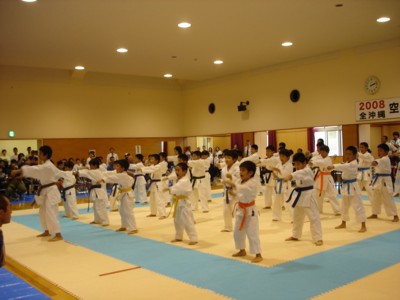 Kata demonstration by Okikukai kids students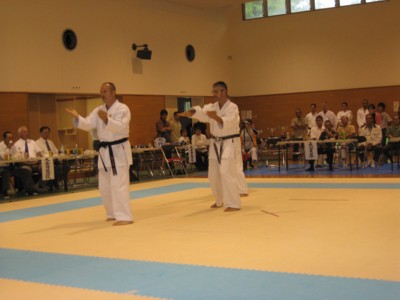 Kata demonstration by Okikukai Slovenia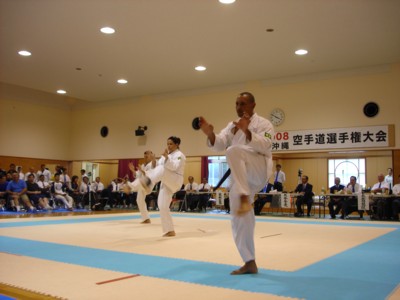 Kata demonstration by Okikukai Brazil

---
Special party & celebrating

On 23rd / Sept, We held party celebrating
both Tomoyose sensei's new assginment to Honored Chairman and
Kyuna sensei's promotion to 9th dan at restaurant SANSEI in Chatan city.
Kicked off by salution from Chairman Asato sensei,
including introduced both sensei
dedication of flowers, folksong shows and we spend wonderful time.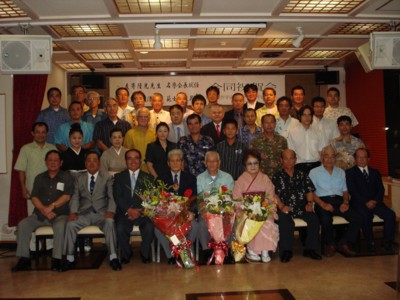 Comemorative photo with Tomoyose & Kiyuna sensei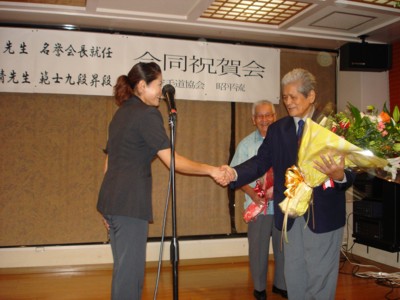 presentation of bouqueat




Okikukai chairman Asato sensei's
speech

Okikukai vice chairman Toubaru senseis'
speech



Okikukai adviser Inada sensei's
speech

Okikukai adviser Takara sensei's
toast



Tomoyose sensei's
speech

Kiyuna sensei's
speech



participants

Machida sensei & Tamayose sensei's
"Sanshin"



Mr.Diego's speech
(From Mexico Okikukai)

Mr.Diego passed 1sd Dan testing
---
Kick-off celemony for 2008 All Okinawa Karatedo championship series

On 14th/Sept, We held kick-off celemony for
2008 All Okinawa Karatedo championship series
On that meeting, after the chairman Asato sensei's speech, program
for special discipline refereeing practice schedules are announced.
And best contenders are introduced to attendants.
After the meeting, we had small banquet ,
Honered chariman Tomoyose sensei encouraged to contenders
and adoviser Higa sensei did toast at the banquet.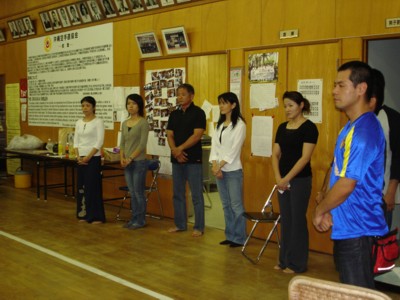 Contenders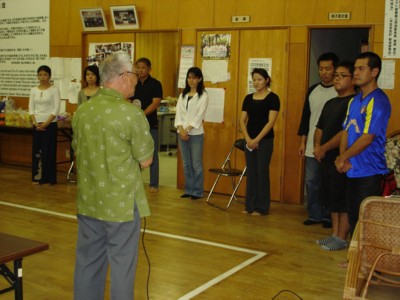 Honered chariman Tomoyose sensei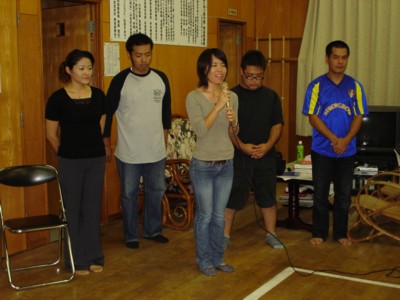 Contenders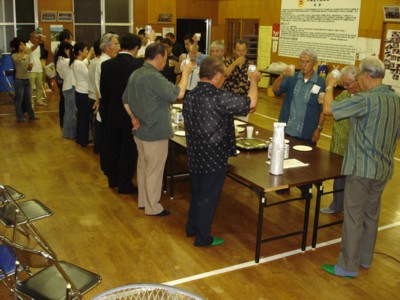 Banquet
---
The Guidelines for the All Okinawa Karate-Do Championship 2008
As described below, the All Okinawa Karate-Do Championship 2008 will be held.
We are looking forward to seeing many of you at this competition.
Please download the PDF file. You can find the entry form in there.

1. Title of the competition: All Okinwa Karate-Do Championships 2008 (Okikukai 20th Anniversary Memorial Championships)
2. Time and date: Sunday 10:00, 9th November, 2008
3. Place: Okinawa Prefectural Budokan
4. Hosted by: The Okinawa Karate-Do Association
5. Supported by: Shurei-Do
6. Competitions:
(1) Individual kumite tournament
*No protectors allowed except for groin guards, mitts, and gumshields
(2) General kata tournament and female kata tournament
*Only the Uechi-Ryu katas except for Sanchin are allowed. (All Uechi-ryu katas up to Sanseiryu is permitted.)
*You are not allowed to use the same kata twice.
7. Rules: The championship should be played by the Okinawa Karate-Do Association rules.
8. Entry qualifications:
(1) Kumite tournaments: Participants should be able to compete in open category tournaments.
(2) Kata tournaments: Participants from any Uechi-Ryu schools are acceptable.
*You have to be over 18 and posses dan grade to compete in this competition. No high school students are acceptable.
*Entries to both kumite and kata tournaments are acceptable.
9. Entry form: Please download the attached PDF file.
10. Entry fee: 2000 yen (that includes the insurance fee)
*Please submit the entry fee on the day of the competition.
11. Application deadline:Sunday, 12 October
12. Forms should be submitted to:

To;
Zip code 904-0017
1-7-11 Kitamae Chatan-Cho, Okinawa Japan FAX/TEL 098-936-4413
Okinawa Karate-Do association
Chairman / Nobuhie Asato
---
Tomoyose Executive Adviser has been elected to honorary chairman

Tomoyose Executive Adviser(hanshi 10th dan grade) was elected to honorary chairman at the board meeting held at the headquarters on Sunday, 24 August.
Also, Asakiyo Kiyuna shihan from Kitamae dojo has received hanshi 9th dan and Mr. Katsunari Sedo(Urasoe dojo) who passed the 3th dan special grading has received his certificate.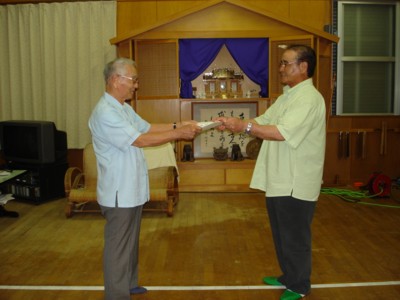 Tomoyose sensei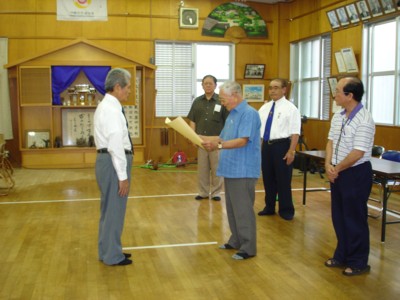 Kiyuna sensei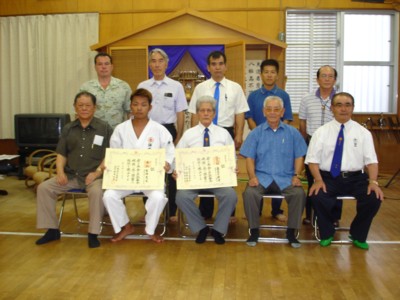 Comemorative photo

---
Okikukai HQ's Karate Championships.

The 41th Okikukai General Championships was held at the Okinawa City Hall
of Martial Arts on Sunday, August 17.
The number of people who had participated in this competition hit 71
as we welcomed many participants from Tokyo, Mexico, Indonesia, and Russia. 
They competed against each other in the kata competition and kumite competition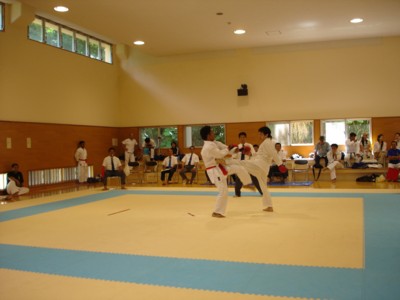 individual kumite competitions

| | |
| --- | --- |
| | |
| athlete oath taker & greetings from Okikukai Chairman Asato | group kata competitions |
| | |
| --- | --- |
| | |
| prize winners | party held for the participants and Okikukai executives |
---
Gojyu-Ryu Karate-Do special demonstration on Jul.26th, 2008 in Okinawa

On Saturday, July 26, International Okinawa Goju-ryu Karate-do Federation (chief instructor: Higaonna Morio shihan) held the 5th World Budo Festival Karate Demonstration Competition
in the Prefectural Budokan.
Okikukai had participated in this competition and we had performed the group demonstration of sanchin. Also, Ageda Women's Dojo had performed the group demonstration of sesan and Takamiyagi sensei had performed the individudal Ryuko demonstration.
This competition is held once in every four years. This year, about 800 members
from overseas had participated this competition.


| | |
| --- | --- |
| | |
| Participant from foreign country | Sanchin demonstration |
| | |
| --- | --- |
| | |
| Seisan demonstration | Kata "Ryuko" |



Comemorative photo of
Okikukai menber

---
Okikukai junior class tournament /Jul.27th,2008

The 29th youth competition took place in Shimabukuro elementary school in Kitanakagusuku. 115 elementary school students, 25 middle school and high school students, a total of 140 young people participated in this competition.
The competition lasted from 9am to 5pm as the individual kata competition, group kata competition, and individual kumite competition for the elementary school students were held in the morning and the same competitions were held for the middle and high school students in the afternoon. The athlethe oath-taker of this competition was Hayao Izumi (6th grade) from Futenma dojyo.
After the announcement from chairman Asato, Mr. Kunio Aragaki, the village mayor of Kitanakagusuku who also holds 6th dan of Okikukai, offered encouragement to everyone who participated in the competition.

| | |
| --- | --- |
|              | |
| Opening celemony | Kumite tournament |
| | |
| --- | --- |
| | |
| Kata tournament | Winners |
---
Dan test for mr.Nassek Holger from Germany/Jul.18th,2008

         
            

Sanchin test

Seisan Bunkai test
  



From vice chairman,
Katsuji Tamayose

Comemorative photo with
Okikukai masters
---

Dan testing & welcome party for Mr.Steve Banchick group from U.S<Jul.4th>

<Member>
*Mr.Steve Banchick/7th Dan
*Mr.Dan Rinchuse/7th Dan
*Mr.Robert Otto/7th Dan
*Mr.Joe Montanino/7th Dan
Mr. Larry Stynchula/6th Dan
*Mr.Melvin J.Kukich/4th Dan
*Mr.Jeff Sulzbach/3rd Dan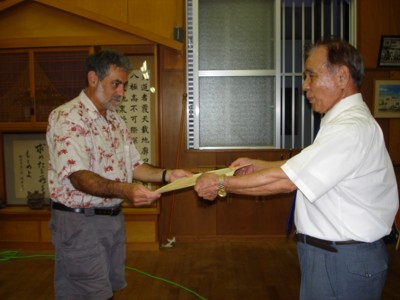 Banchick sensei with Shintoku Takara sensei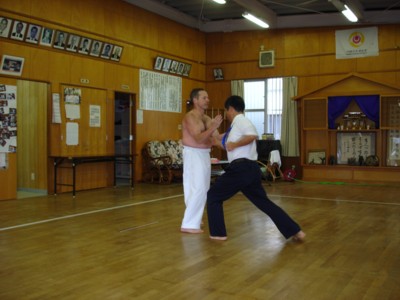 Sanchin testing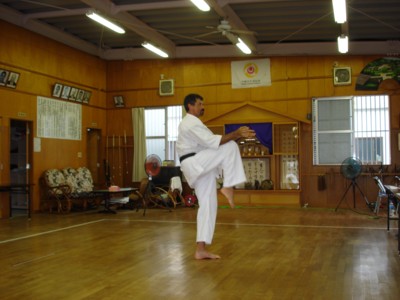 Kata testing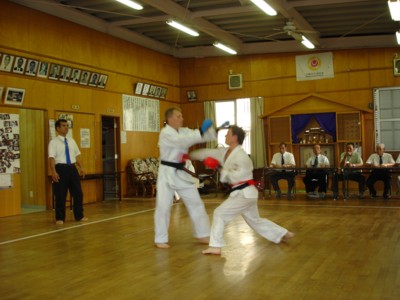 Kumite testing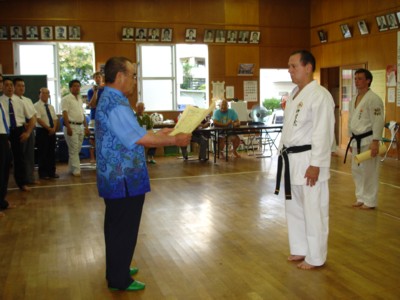 From Chair man, Nobuhide Asato sensei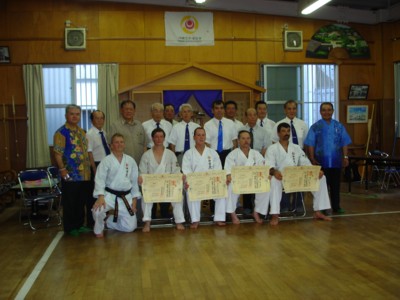 Comemorative photo with Okikukai masters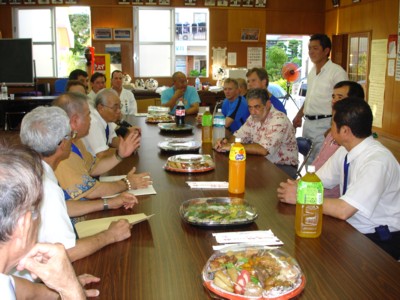 Welcome party & meeting
---

Dan testing of HQ

On 18th/May, at Okikukai head quarter,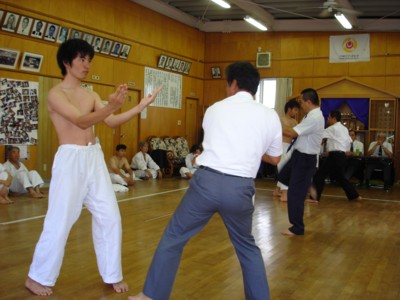 Sanchi test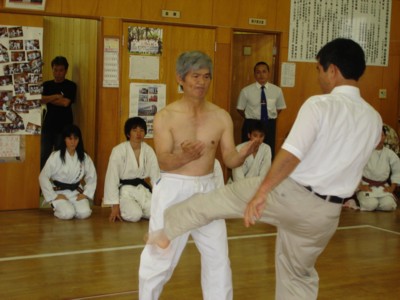 Sanchin test
<Kensho, Kina /The chair man of Tokyo branch>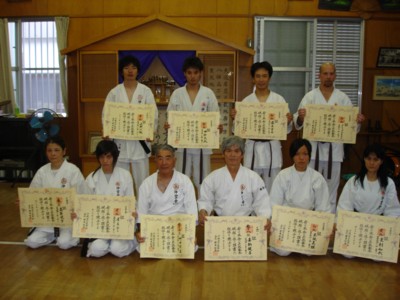 Comemorative photo
---

New Okikukai board members
On 13th/April at Okikukai head quarter,
The first board meeting was took place
On that meeting, We assigned new board members, and master plan for 2008
was discussed and announced audit report

<President>
Nobuhide Asato /9th Dan/Urasoe Dojo

<Vice president>
Keicho Tobaru /8th Dan/Awase Dojo
Katsuji Tamayose/8th Dan/Ginowan Dojo
Soukei Machida/7th Dan/Ageda Dojo

< Chairman of directors>
Yoshiharu Matsushima/7th Dan/Chatan Dojo

<Vice chairman of directors>
Masanori Yonamine/7th Dan/Koza Dojo

<Chief official>
Mitsuo Namihira/4th Dan/Urasoe Dojo

<Auditor>
Shinmatsu Okuhama/8th Dan/Gushikawa Dojo
Hirokuni Yamashiro/7th Dan/Yamashiro Dojo

Officials;

<Vice-Chief Official>
Isamu Ohoshiro
Seiken Nashiro
Yutaka Higa
Yoshinori Kishimoto

<Accountant>
Yutaka Higa
Tsutomu Shikiya

<Official Public Information>
Kazuya Takara

<Official of Public Relations>
Sakae Uechi
Takashi Arakaki
Tsutomu Shikiya

<Manager of Headquarters>
Yoshiharu Mastushima

<Secretary of Dan certification>
Katsuji Tamayose
Hatsuko Machida

<Website Manager>
Mitsuo Namihira
Keisuke Fujimoto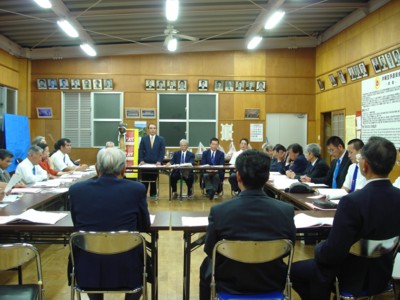 Meeting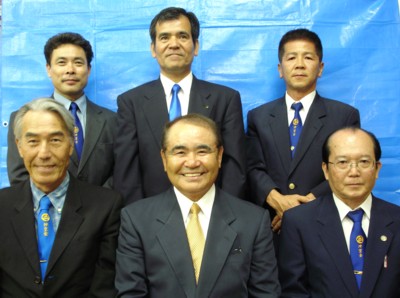 New directors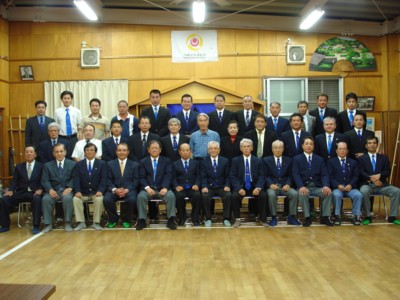 Comemorative photo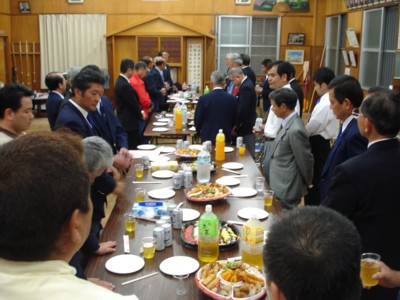 Party after meeting
Message;
Greeting from New Chairman
First, We respectly thank you very much for all members of OKIKUKAI for your co-operation for expanding our Traditional Okinawa Karate in your aerea. On the annual board meeting on 13th/April, I ( Asato) was assigned as new chairman of OKIKUKAI.I will try to do my best to dedicate for continuous progress of Traditional Okinawan Karate.
I wish to get your instruction , advices, support from all members from the world.
The year of 2008 is special year for Okinawa Karate, All Okinawan Karate organizationestablished new organization Okinawa Traditional Karate promotion organization beyond ryuha (style) and is very special year to promote Okinawa Karate to the world.
Okinawa Karate is organized by our senior masters and is important cultual heritage.I try to work for succeed and expand to next generation.I solicite you all members of OKIKUKAI again to co-operate to this great aim
Hope all are in good health and continuous success
Thank you and best regards

Chairman Nobuhide Asato
Message;
Retirement salution from Chairman

We are pleased to hear all members of Okikukai are well

I inform all members about my retirement from chairamn on 13th/Apr on the board

meeting, Thank you very much for your continuous support while 4 years

since I was assigned as chairman of Okikukai and I could do my duties without

any trouble

I wish new chairman will respond to members request and requirement

and for new chairman, Sensei Asato of Urazoe dojo assigned from

14th/April,

thank you very much for your support and hope all members in good health and

success, after I retire from Chairman, I will support Okikukai as Kancho of Sashiki dojo

Best regards

14th / April

Former Chairman Kosuke Yonamine

---

Newly established Okinawan Traditional Karate Association, Board members conference, new years party


On 14th/Feb at Okinawa, 4 karate organization unified 1 organization
and established Okinawa Traditional Karatedo Association
They held a party at Hotel Nikko Naha Grand castle

From Okikukai, Tomoyose sensei assigned as counselor , Takamiyagi sensei assigned
as Chariman of the Board, Asato sensei assigned as Board member
Toubaru sensei assigned as secretary
Chaieman of this new organization is the Governor of Okinawa Prefecture
Chairman of 4 organization assigned as vice chairman
Secretary of 4 organozation assigned as vice-secretary
and plan to have WORLD-CUP game on 2009

On 10th/Feb, Uechi-ryu karatedo rengokai had new years party
From Okikukai, many people particiated the party
On the party, master Maeshiro(10th dan ) had speech named My Karate life

after that, licence for dojo , dan certificate, are granted
to new promoted masters

From Okikukai, Higa sensei granted 9 hanshi 9 Dan
Yoshimori sensei granted Renshi 6 dan
and did demonstration

         
            

 

Speech by sensei Maeshiro

New year party of Uechi-Ryu
Karate-Do Union in Okinawa
  

          
 

Sensei Higa Toshio

Sensei Yoshimori
---
Okikukai HQ held 2008 new year party on Jan.27.

48 participants enjoyed new year's party at head office.
They enjoyed playing games, karaoke and ended by singers show and karaoke competition.
All participants confirmed to work hard for Okikukai's progress on 2008.


         

            
      

President Yonamine sensei

Sensei Tomoyose 10th Dan
  

          

 

Game1

Game2
| | |
| --- | --- |
|                       |                      |
| Sensei Takamiyagi's speech | Female participants |
| | |
| --- | --- |
|                    |         |
| Hanshi senseis | Sanshin & traditional song |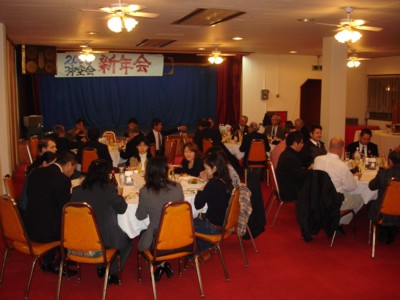 Participants
---
Copyright(C) 2002 Okinawa Karate-Do Association All Rights Reserved.